Best Rug Material for Dogs: Guide to Choose the Best Rug for Home
Introduction
What's more joyful than welcoming an adorable four-legged friend into your home? It brings you happiness and offers the best kind of companionship too. However, along with the perks, there are several factors that you must consider, and one of the primary ones is the maintenance of a comfortable and clean home. Out of everything, choosing the best rug material for dogs becomes imperative, and we are here to help you with the same. You can refer to this post while selecting pet friendly rugs, and also understand why you are choosing a particular material. By the end of this post, you will be capable of making a rational decision that will also be in alignment with your style and preference.
Dogs can put the inside of your home to the test because of their playful nature that can lead to sudden accidents. It's crucial to strike a balance between providing your beloved pet with a comfortable home and accommodating their requirements.
Our blog provides information on a range of rug materials, from durable and stain-resistant choices to those that put an emphasis on comfort. We examine each material's distinctive properties to simplify your decision-making process, from the toughness of nylon and polyester to the allure of wool and cotton.
So, let's start exploring various textures, hues, and usefulness to make sure that your home continues to be a peaceful refuge for both you and your cherished pet. With our guidance through this post, you'll be prepared to pick the best rug material for dogs which is not just compatible with your decor but also withstands the daily adventures you experience with your pet.
Pet friendly rug materials
The selection of materials is crucial when looking for the best pet friendly rugs. To establish a harmonious living place for you and your adorable pet, it is crucial to strike a balance between durability, comfort, and ease of care. Here, we examine a variety of rug materials that make the best washable rugs for dogs.
Nylon
 

Longevity

: Because of its remarkable longevity, nylon carpets are a great option for high-traffic areas and houses with energetic dogs.

 

Stain resistance: Natural stain resistance of nylon makes it simpler to wipe up spills and accidents right away.

 

Simple maintenance

: These carpets are simple to keep clean, and they frequently hold up well to machine washing or even spot cleaning without losing their vivid colors or texture.

 

Variety

: You can pick the ideal rug to complement the design of your house thanks to the large selection of colors, patterns, and styles available for nylon rugs.
Polyester
 

Affordability

: Polyester carpets are frequently less expensive than other materials, making them a cost-effective option without sacrificing quality.

 

Color Retention:

Polyester carpets hold their color well over time, making sure that your rug keeps its vibrant, appealing appearance.

 

Stain-resistance:

Polyester is a sensible choice for families with dogs since it is stain-resistant, much like nylon is.

 

Softness:

Polyester carpets provide a luscious, plush feel underfoot, making them a comfortable place for your dog to unwind.
Wool
 

Sustainability

: Wool is a renewable and biodegradable material, making it a green option for pet owners who care about the environment.

 

Temperature Control

: Wool's insulating qualities aid in controlling temperature, making it a pleasant surface for your dog to lay on in a variety of climates.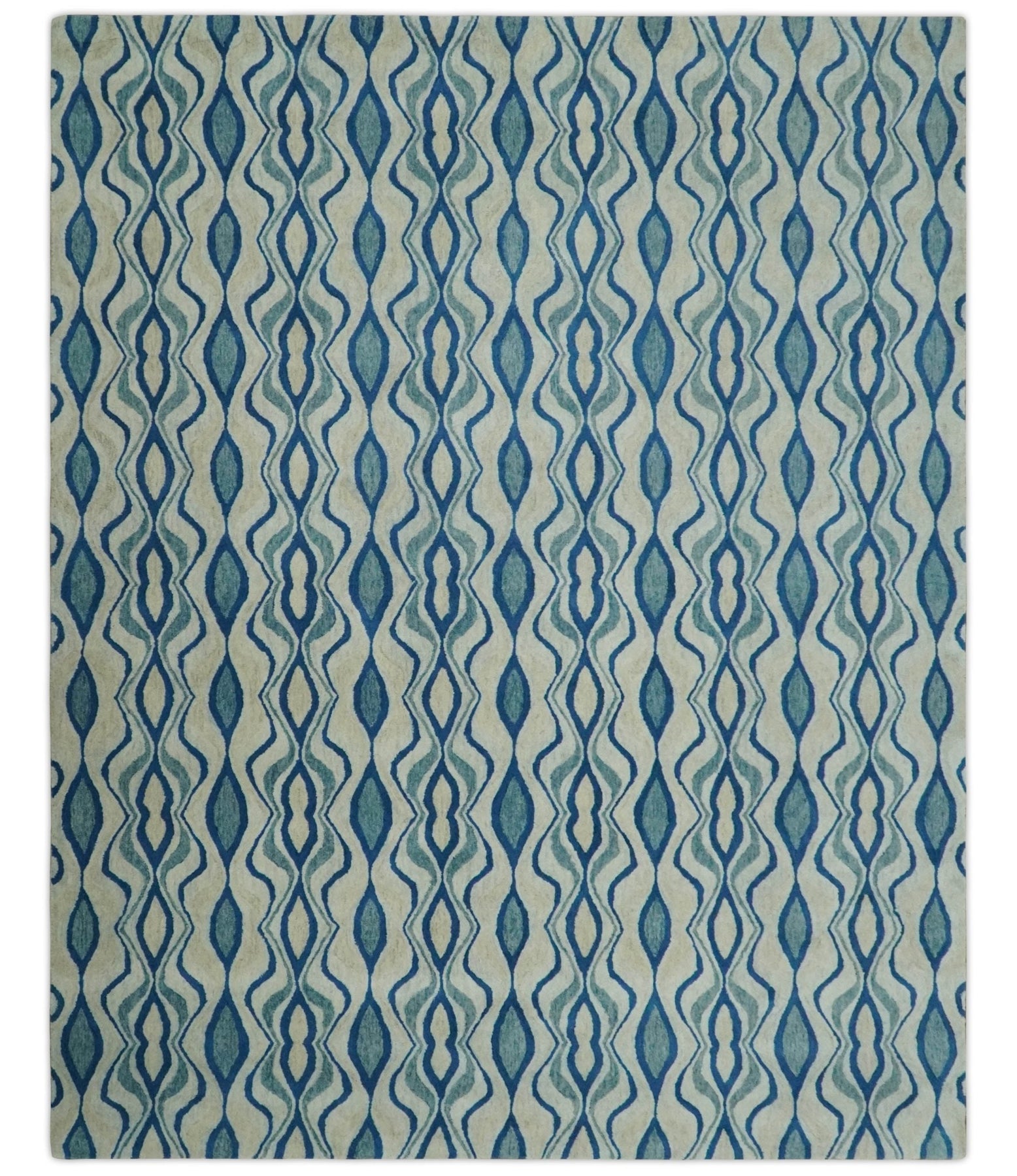 Shop Now - Ivory and Blue Hand Knotted Wool Area Rug
 

Durability: Wool rugs are known for their innate durability, which makes them perfect for active dogs because they can recover from foot traffic and paw prints. Moreover, wool is inherently resistant to scents, keeping your home feeling fresh even when there are pets around.
Polypropylene
 

Affordable alternative

: Polypropylene rugs are a good option for those on a tight budget since they provide usefulness and durability at a lesser price.

 

Fade resistance

: These rugs are made to be resistant to fading, so even after extended sun exposure, their color and brightness are maintained.

 

Indoor-Outdoor Use

: Polypropylene carpets can be utilized both indoors and outdoors due to their resistance to moisture and weather, giving your home's decor more versatility.

 

Moisture resistant:

Polypropylene carpets are extremely water and stain resistant, making them a practical choice for homes where accidents could happen.
Blends (Wool/Synthetic Blends)
 

Reduced allergies:

Certain wool mixes may help lower allergies in the home, promoting a healthier environment for you and your dogs.

 

Softness and Durability

: Blended rugs blend the comfort and softness of natural materials like wool with the strength and durability of synthetic fibers.

 

Stain Resistance

: These carpets frequently offer varied levels of stain resistance, depending on the blend, striking a compromise between practicality and luxury.

 

Texture Variation

: Blended rugs can provide distinctive textures and patterns, enhancing the interior design of your home.
Natural Fibers (Cotton, Jute, Sisal):
 

Eco-friendly: Natural fiber rugs are biodegradable and eco-friendly, making them a sustainable option for pet owners who value green living.

 

Texture: These jute rugs and sisal rugs come in a variety of textures to suit your dog's preferences and provide them a cozy place to lounge.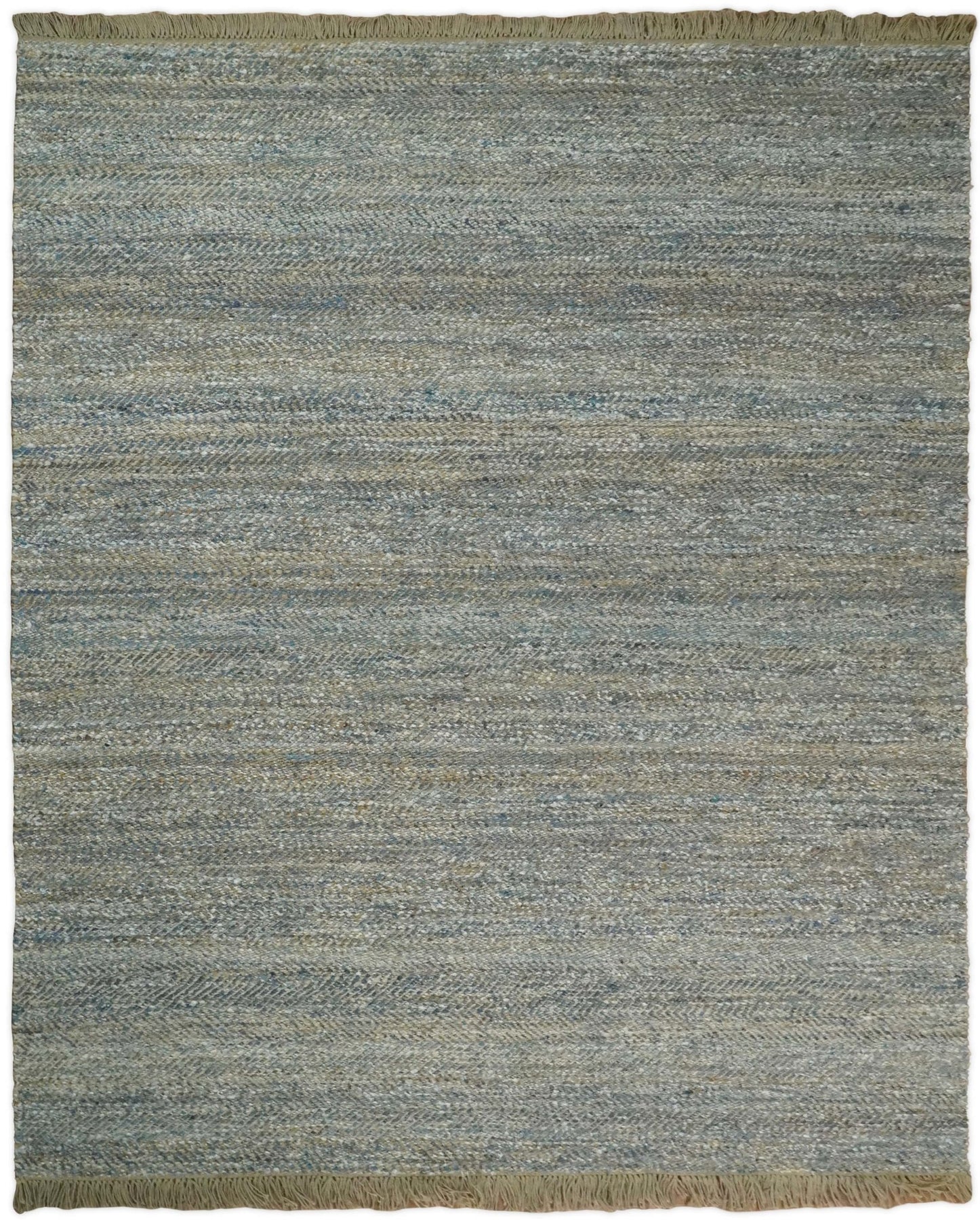 Shop Now - Hand Woven Natural Fiber Jute and Silk Rug 
 

Warning

: While natural fiber carpets might give your home a cozy, country feel, they might not be the most stain- or wear-resistant when it comes to pets' active wear and tear.
The perfect rug material for your home requires careful consideration of your lifestyle, your dog's behavior, and your aesthetic tastes. Consider elements like durability, stain resistance, comfort, and maintenance requirements when choosing a material because each has specific advantages. You may establish a comfortable and fashionable living area that suits both your aesthetic preferences and the presence of your furry buddy by choosing a pet-friendly rug material that suits your demands.
FAQs
What type of rug is best with dogs?
Rugs made of tough fabrics like nylon or polyester are the best choice for dog-friendly houses. These materials are stain, wear, and tear resistant, making them ideal for active paws and the occasional bout of playful shenanigans. Consider low- or medium-pile rugs as well, as they are less prone to collect pet hair and are simpler to clean.
What is the best material for area rugs with dogs?
Wool stands out as a great option for area rugs in households with pets. Wool, which is renowned for its inherent toughness and odor resistance, can withstand the demands of pet ownership while providing a comforting softness beneath the feet. As an alternative, synthetic mixes with properties similar to polypropylene can offer a balance between price and durability, making them a good choice.
What type of rug is best for dog pee?
Polypropylene indoor-outdoor carpets are an excellent option for dog owners when accidents occur. These carpets are frequently made of moisture-resistant, hygienic materials like polypropylene. Choose rugs with a rubber or non-slip backing to stop spills from leaking through and to make cleanup simple.
What is the best rug for a pet home?
Consider rugs that mix functionality and beauty in a home that has pets. Polyester, nylon, and polypropylene are examples of stain-resistant textiles that can tolerate spills and everyday use.
In order to maintain a fashionable and pet-friendly living space, carpets with patterns or darker hues can assist hide any unavoidable pet-related disasters. Don't forget to pick carpets with a texture that enhances your pet's comfort and is simple to clean and maintain.
---
---
Recommended Blog Post