If you are looking for a rug option to elevate the beauty of your home, a sisal rug is a great option, especially due to its construction material, which is natural, and gives a space more earthiness and warmth. The sisal fiber comes from the agave plant, scientifically known as Agave Sisalana.
Out of all the benefits of sisal rugs, the most important is its resistance capacity against wear and tear over time. So, if you are worried about what rug to place in high-traffic areas, note that sisal rugs can be good options with their eco-friendly quality. In this post, let's find answers to what a sisal rug is, its benefits, reasons to buy one, and more.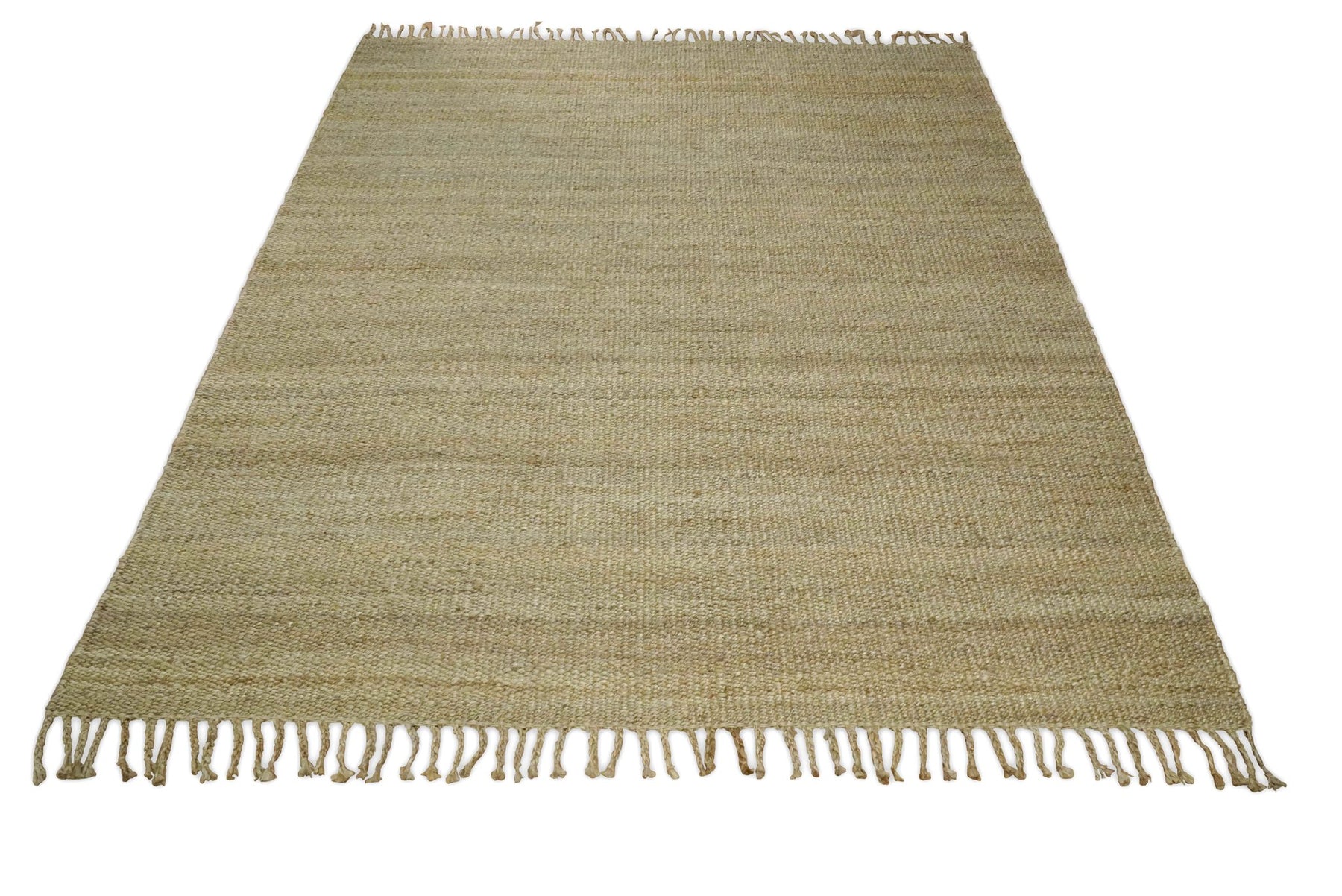 Buy Brown Hand-woven 100% Natural Fibre Rug
What is sisal made of?
The first question that comes to mind while discussing the topic is what is a sisal rug made of, and the answer is right here. As mentioned earlier, the source of the sisal fiber is the Agave Sisalana or Agave plant. While the plant finds its origin in Mexico, but is now found in abundance in several other parts of the world. Both Jute and Sisal are natural fibres. If you wish to explore the differences between jute and sisal rugs, we've got it covered.
To extract the sisal fibers, Agave leaves are crushed, followed by a thorough washing and drying process. Note that sisal fibers are quite rough and tough, which makes them fit for the manufacturing of rugs as well as rope, and twine. This sustainability, coupled with the biodegradability of sisal, makes it an eco-friendly choice for products that prioritize environmental impact.
An introduction to sisal rugs
Sisal carpets can add a natural touch to your existing interior design by blending earthy aesthetics with functionality. These rugs, made from the agave plant, have a unique texture and durability that also serves as their USP. Sisal rugs are incredibly versatile too, and suits almost every home, whether you prefer natural things for a rustic look, or want to transform your space in a more modern and contemporary way.
How are sisal rugs made?
The production of sisal rugs is a time-consuming and labor-intensive process that begins with the growth of the Agave Sisalana plant. These succulent plants, which are usually planted in dry locations, mature in four to seven years before being suitable for harvesting. During this period, agave plants store energy in their long, sword-shaped leaves, which later become sisal fibers.
The leaves are extracted once they have been harvested. They are crushed to release the fibers, which are then thoroughly washed to remove impurities and naturally dried under the sun. This process guarantees that the fibers retain their strength and natural properties.
The collected sisal strands are next combed and spun into a strong, continuous thread. The yarn serves as the foundation for the rug's manufacturing process. Following that comes the weaving process, which can be carried out by experienced craftsmen using traditional hand-weaving techniques or by using modern machines for efficiency, depending on the volume of production.
After the rug's base is ready, it undergoes a finishing procedure to enhance its texture and appearance. Brushing or shearing techniques can be used to provide a consistent and soft feel. Then, the rug's edges are tied to strengthen the structure and also increase its endurance capacity.
The eco-friendly nature of the agave plant plays an important part in the process of sisal rug manufacture. The lack of synthetic elements makes sisal carpets biodegradable, leading to a lower environmental footprint.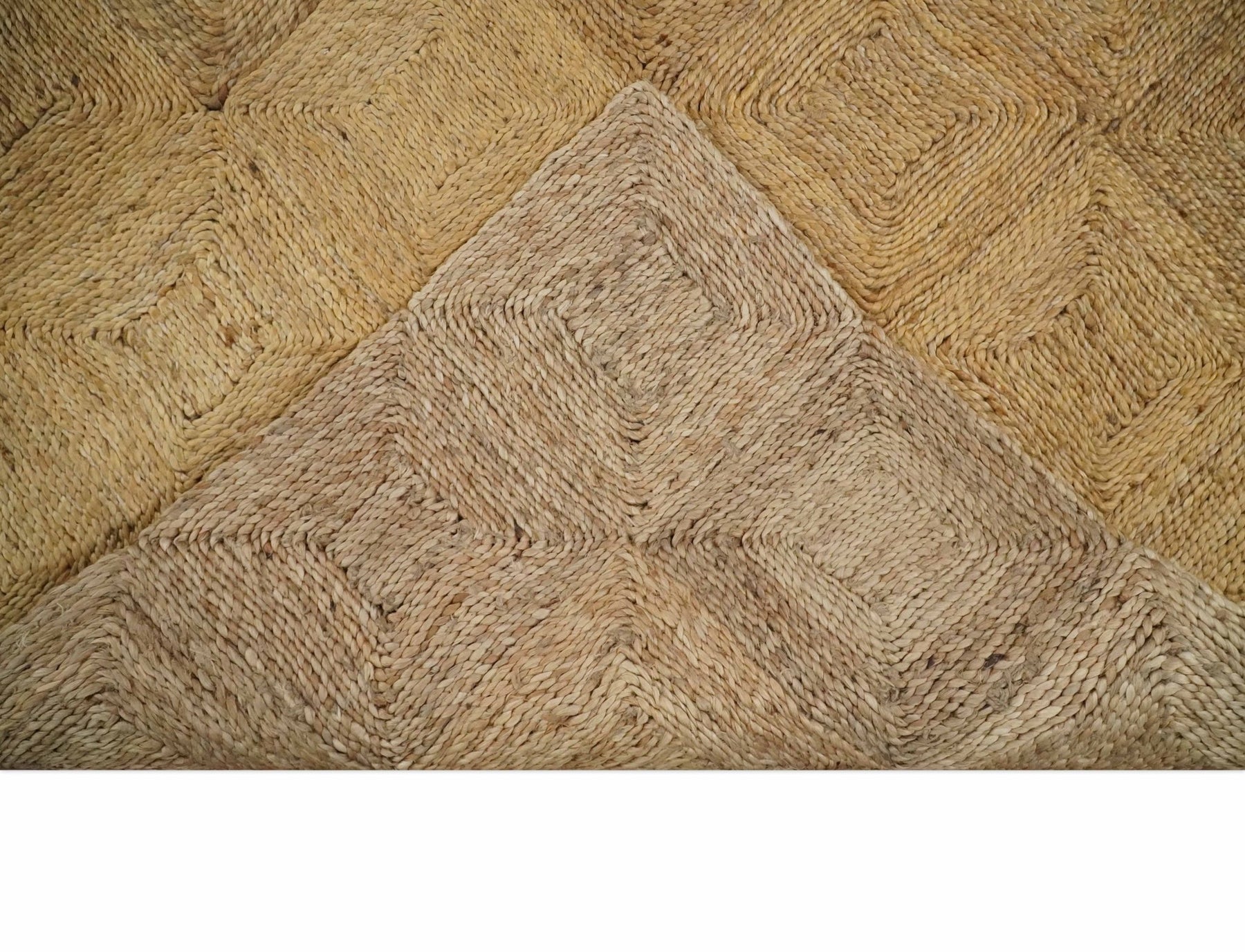 Buy Hand-woven 100% Natural Rug
Benefits of sisal rugs
Eco-friendly material
Sisal rugs are a sustainable and eco-friendly floor covering option. These rugs, derived from the agave plant, use up minimum environmental resources during cultivation. Agave plants thrive in arid environments, requiring less water and minimizing the need for pesticides. Sisal is a sustainable resource due to its innate resilience, which coincides with environmentally conscientious methods.
The biodegradability of sisal fibers provides a low environmental impact, which contributes to a greener future. Choosing sisal rugs shows your choice of sustainable living and environmental consciousness, making them a perfectly sensible addition to any house.
Highly durable and resistant
One of the most notable benefits of sisal rugs is their incredible durability. These rugs are built to last for years due to their strong natural fibers. Sisal's durability makes it capable of resisting damage due to heavy foot traffic, making it an excellent choice for busy spaces.
Incredibly low maintenance
Sisal rugs are extremely practical, providing a low-maintenance rug option for homes. Because of the natural properties of sisal fibers, they are resistant to dirt and dust, resulting in a rug that stays cleaner for longer periods of time.
Regular maintenance is simple, generally requiring only basic vacuuming to remove dirt and dust from the surface. Spot cleaning is also simple because the texture of sisal does not collect dirt, allowing for rapid and efficient cleansing.
Soft and plush texture
Sisal rugs are surprisingly soft underfoot, contrary to popular belief that natural fiber rugs are gritty. The fibers are carefully processed throughout manufacture to ensure that the texture is not only durable but also comfortable. Sisal rugs are pet friendly too.
Sisal rugs are a fantastic choice for individuals who want a rug that not only adds a touch of beauty to their area but also delivers a pleasant and warm sensation due to its unique combination of durability and comfort.
Low rate of shedding
Sisal rugs sheds considerably less compared to other rugs made out of natural fibers, which is also one of the best benefits of these. The tight weave of sisal fibers reduces shedding over time, ensuring the rug's beauty and structural integrity for an extended period of time. This feature is especially beneficial for people who prefer a clean environment without the continual worry about loose fibers.
Because sisal rugs shed less, they contribute to a cleaner atmosphere, making them an excellent choice for people who prefer their houses to be clean all the time. Overall, the combination of easy cleaning, softness, and low shedding distinguishes sisal rugs as not only fashionable but also functional additions to interior design.
Why should you buy a sisal rug?
Sisal rugs offer a range of very convincing reasons for homeowners and interior decorators to why they should invest in these. Of course, when you look at the premium range of sisal rugs from The Rug Décor, they are functional and very stylish, and perfect to offer a touch of refinement to your home.  
Check out more reasons as to why you should invest in a sisal rug:
Naturally versatile and elegant
As mentioned earlier, the earthy and rustic energy that comes with a sisal rug can add elegance to any space, whether the existing décor is towards the traditional or contemporary side. These rugs come in neutral hues that usually blend perfectly with every wall color, making them adaptable and versatile too.
Eco-friendly option
If you are someone who is always aware of the environmental impact of your actions, here is the perfect solution for your home. When you decide to invest in a sisal rug, the ecological footprint it leaves is absolutely minimal. As mentioned earlier, the sisal fiber comes from the Agave plant which means there is zero amount of synthetic element present in it. On the other hand, sisal rugs are biodegradable too, making them perfect for sustainable living.
Perfect for high-traffic areas
One of the finest features of sisal rugs is their durability and resistance against wear and tear. During the manufacturing process, the fibers are woven very tightly resulting in a tough base that not only offers an aesthetic appeal, but also showcases strength against damage. So, if you are confused about what type of rug to place in one of those high-traffic areas of the house, sisal is the best option hands-down!
Easy to clean and maintain
As mentioned earlier, sisal rugs are incredibly low maintenance. It means that simply vacuuming it regularly works well to keep the look of these rugs intact. Spot cleaning is also comparatively easier when it comes to sisal rugs due to the tight weaving that hardly absorbs any stains and dirt.
Underfoot comfort and warmth
While it is true that sisal rugs are tougher compared to other natural fiber, these are very soft and comforting as well. So, if you are looking for the perfect blend of comfort and durability, invest in a sisal rug that is going to offer you underfoot comfort for a long time.
Placing a sisal rug
When you place a sisal rug strategically, the functionality and visual appeal that it offers is top-notch. Discover tips to place a sisal rug perfectly at home in this section below:
As the focal point
In living rooms or sitting areas, consider placing a sisal rug as its focal point. Its natural texture and neutral tones can provide a visual foundation for furniture designs. This focal position not only defines the seating area, but also gives warmth and character to the room.
Adding comfort to your bedroom
Place a sisal rug under the bed to improve the comfort and style of your bedroom. The rug's softness underfoot, paired with its longevity, offers a pleasant and inviting environment. Select a size that reaches past the bed's sides to visually frame the entire sleeping space.
Also Read: Choosing a Rug for the Bedroom and Placing it Right
For a layered look
Consider stacking a sisal rug with additional rugs or carpets to provide an extra dimension and texture. This technique allows you to experiment with patterns and colors to achieve a more refined look of the space. Layering also adds insulation and comfort underfoot, making it an ideal choice for bedrooms or warm reading nooks.
Also Read: Layer Rugs: Styling Tips for Rugs
To highlight hallways and entrances
Sisal rugs are an excellent choice for entrances and hallways because they can withstand high foot traffic in these busy areas. Their resilience and natural charm make them ideal for creating a welcoming atmosphere when people enter your home.
To add refinement to your dining space
A sisal rug can add a touch of refinement to dining rooms. Choose a size that fits the dining table and chairs, enabling the rug to extend beyond the table's edges. This not only grounds the dining table, but also protects the floor beneath from scratches and spills, while the natural fibers add to a relaxed and appealing dining setting. If you wish to pick a rug for the dining room, head straight to our blog.
Maintaining sisal rugs
 

Regular vacuuming- While sisal rugs don't require a lot of maintenance, regular vacuuming is mandatory to ensure that the dirt and impurities on the surface don't spoil the beauty of the space.

 

Spot cleaning- The tight weaves of sisal rugs don't really allow dirt and stain to get to the inner layers of the rug. However, you must be careful, and attend to a stain immediately to ensure that there is no mark on the rug due to any absorption.

 

Rotate frequently- Sisal rugs are tough and durable, which makes them perfect for high traffic areas. But, you must ensure that the rug is being rotated from time to time to ensure that just one side of it does not have to endure all the foot traffic.

 

Restrict from direct sunlight- If you are placing the sisal rug in a room that receives a lot of sunlight, make sure that you rotate the rug every once in a while. Note that continuous exposure to direct sunlight can damage the fibers resulting in fading of the rugs.

 

Professional help- Your rug needs deep cleaning at least every alternative year, even if you vacuum it regularly. So, connect with professionals who have the right knowledge and tools for deep cleaning of rugs for the best results.
Choose premium sisal rugs from The Rug Decor's exquisite collection
The outstanding quality and sophistication of The Rug Decor's premium sisal carpets will elevate your decor. Our excellent collection features handwoven rugs that effortlessly combine durability and timeless elegance.
Each rug has been meticulously handpicked and features outstanding craftsmanship, providing a comfortable feel underfoot while retaining the inherent beauty of sisal. Our collection accommodates to a wide range of tastes, from classic neutrals to innovative styles. Select a premium sisal rug from The Rug Decor to experience the ultimate elegance and functionality, where artistry meets quality for a refined home decor experience.
FAQs
What is the difference between jute and sisal?
Jute and sisal, though both natural fibers, differ in texture and origin. While jute is softer and more pliable, sisal is tougher and coarser. Their distinct characteristics make jute rugs more suitable for low-traffic areas, while sisal rugs for high-traffic areas.
Why are sisal rugs so popular?
Sisal rugs' popularity stems from their unique blend of durability, eco-friendliness, and aesthetic appeal. Known for withstanding heavy traffic, sourced sustainably from agave plants, and offering a versatile, natural look, sisal rugs are always in high demand, combining practicality with timeless elegance in interior decor.
---
---
Recommended Blog Post