What is a runner rug and everything else to know about it
Are you wondering what is a runner rug while scrolling through all those beautiful floor coverings in various shapes and sizes? We have got you covered about these! For starters, a runner is a long and narrow style of rug that look highly elegant and are wise choices if you are planning to upgrade the look of your interiors.
Runner rugs are typically placed in staircases, entryways, hallways, and more. The best part is that a runner's design is perfectly compatible to endure the constant foot traffic of these specific areas. Overall runner rugs not just protect high-traffic areas, but also enhance the aesthetics of the space.
Runners, as opposed to bigger area rugs, are often made with dimensions ranging from 2 to 3 feet in width and 6 to 14 feet in length. This elongated design enables them to create paths, guiding movement across areas with a refined touch. Because they are available in a variety of patterns and materials, they are suitable to a wide range of interior styles.
Overall, a runner rug is a useful accent that combines style and utility rather than a decorative feature. As we dig deeper, we'll look at the various characteristics of runner rugs, such as their designs, sizes, utility, and the materials that contribute to their ongoing appeal in home decor.
What is a runner rug?
A runner rug is a unique and functional flooring accent that contributes significantly to both interior style and functionality. A runner rug, unlike any other bigger area rug, is long and thin, making it ideal for hallways, entryways, and staircases. Its major role is to offer a sense of flair while also fulfilling the practical purpose of shielding high-traffic areas in a home.
These carpets, which are usually 2 to 3 feet wide and 6 to 14 feet long, are intended to provide a visually appealing pathway through various living spaces. Runner rugs are available in a wide range of styles, patterns, and materials, allowing homeowners to select the best ones that blend in perfectly with the existing decor.
The functionality of the runner rug is an important aspect that also justifies why it is always in high demand. Apart from their aesthetic value, they also provide a non-slip surface, which is especially important in areas like staircases where safety is the priority. Runner rugs also help in noise reduction by absorbing sound, providing an acoustic benefit in areas with hard flooring. Moreover, they serve as a protective layer, protecting the underlying flooring from scratches and damage.
It is very important that you choose the right size of runner rug to ensure that the final look is what you had envisioned, and also check if it is functional enough. The size is mainly determined by the layout of the space, with popular options ranging from 2 to 3 feet wide and 6 to 10 feet long. This ensures that the runner rug covers the desired areas while also complementing the overall design plan.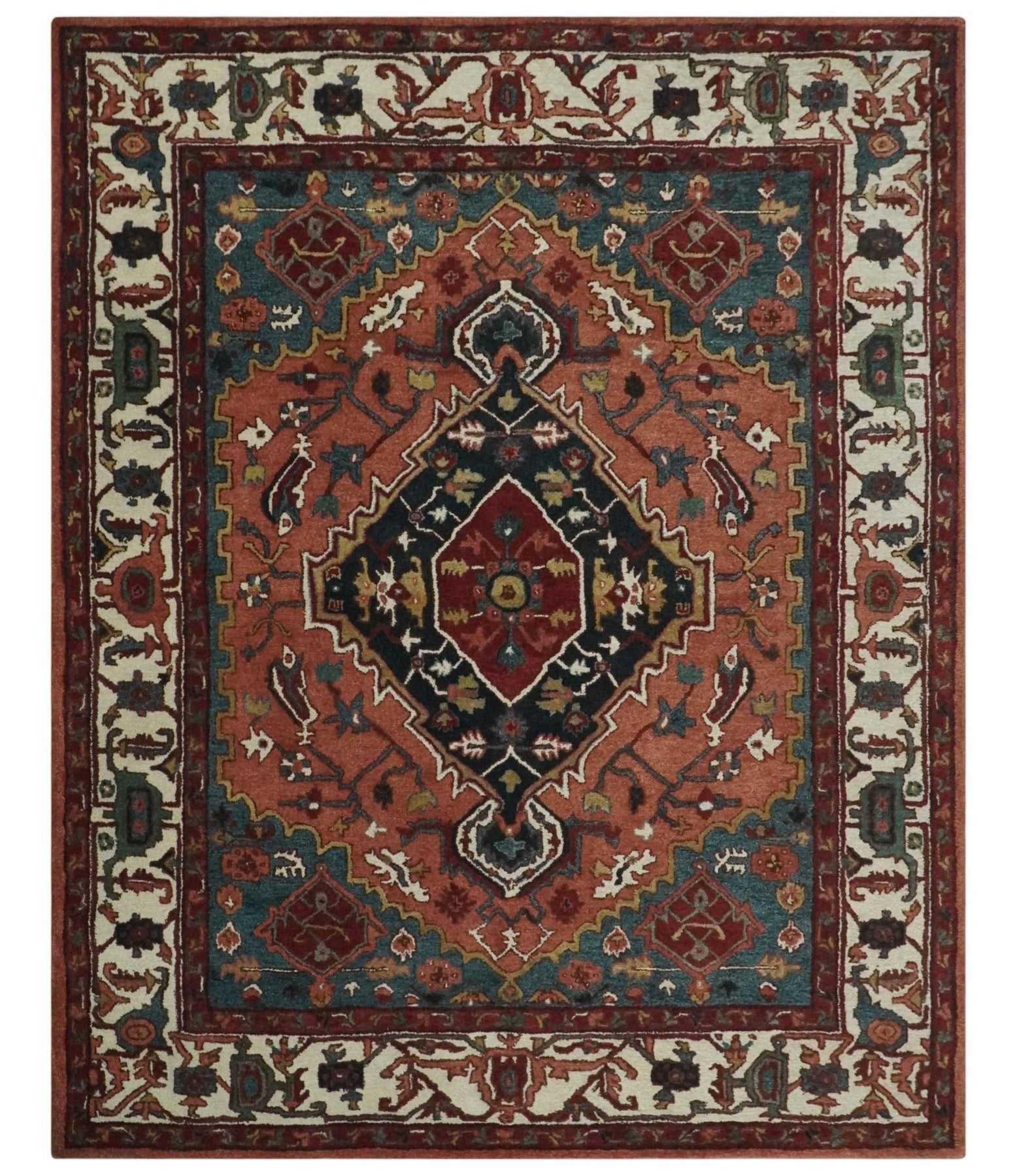 Buy Now - Vintage Style Hand Tufted Runner Rug
A runner rug is a versatile and necessary component of home decor, that creates the right balance of style and functionality.  As we go deeper into the complexities of runner rugs, examining topics like design, size, materials, and maintenance, a more detailed understanding will emerge, helping homeowners to make better decisions that raise both the aesthetic and functional aspects of their living rooms.
Why do you need a runner rug?
A runner rug is a versatile and important addition to your living space as suggested by several interior design experts. There are several reasons why investing in a runner rug for your home is more than just an aesthetic choice.
For example, runner rugs are intended to improve the visual appeal of high-traffic areas. Moreover, a runner rug adds beauty while protecting the underlying flooring in hallways, entryways, and staircases, where wear and tear are more noticeable
Other than its visual appeal, runner rugs have an important functional purpose too. Since safety is of the utmost importance, especially on staircases, runner rugs provide a non-slip surface, reducing chances of any mishap. This aspect makes runner rugs excellent alternatives for families with children, retirees, or anybody with mobility issues.
Runner rugs are also very important for sound absorption, as mentioned earlier. Echoes and noise can be heard in rooms with hard flooring surfaces. However, a runner rug's fibers work as sound absorbers, reducing noise and contributing to a more comfortable and acoustically balanced atmosphere.
Additionally, these carpets serve as a protective barrier for your floors. High-traffic areas, whether hardwood, tile, or laminate, are prone to scratches and scuffs. A runner rug acts as a barrier, protecting the underlying flooring and increasing its longevity.
A runner rug is a one-stop solution that showcases the perfect combination of aesthetics and practicality. When you consider the different features of runner rugs, such as design and size, as well as materials and maintenance, it becomes clear that these floor coverings are more than simply a décor accent; they are a vital component in creating harmony and style in your home.
What size is runner rug?
Choosing the proper size for a runner rug is critical to achieve the best combination of both aesthetic and functionality in your living area. Runner rugs are available in a variety of sizes, and the best size depends on the unique layout and needs of the room you wish to decorate.
A runner rug's width typically spans from 2 to 3 feet, allowing it to fit comfortably in more compact spaces such as hallways and entryways. This width provides adequate coverage to improve the aesthetic appeal of certain areas without being overpowering.
Runner rugs come in a wider range of sizes, ranging from 6 to 14 feet. This variety accommodates a wide range of space requirements, allowing homeowners to select a size that properly matches the proportions of their halls or staircases.
A runner rug that spans the majority of the length but leaves some room on either end is generally recommended in corridors. This offers a balanced and visually beautiful appearance while also keeping the rug functional for navigating the space. The length of the runner rug in a staircase should correspond to the proportions of the stairs, offering both an aesthetic element and a safety measure by covering the full stair span.
When deciding on the size of a runner rug, consider the dimensions of the area as well as the intended visual impact. A longer runner rug can provide a more dramatic and expansive impression in larger places, whilst a shorter runner rug may be more appropriate in smaller spaces.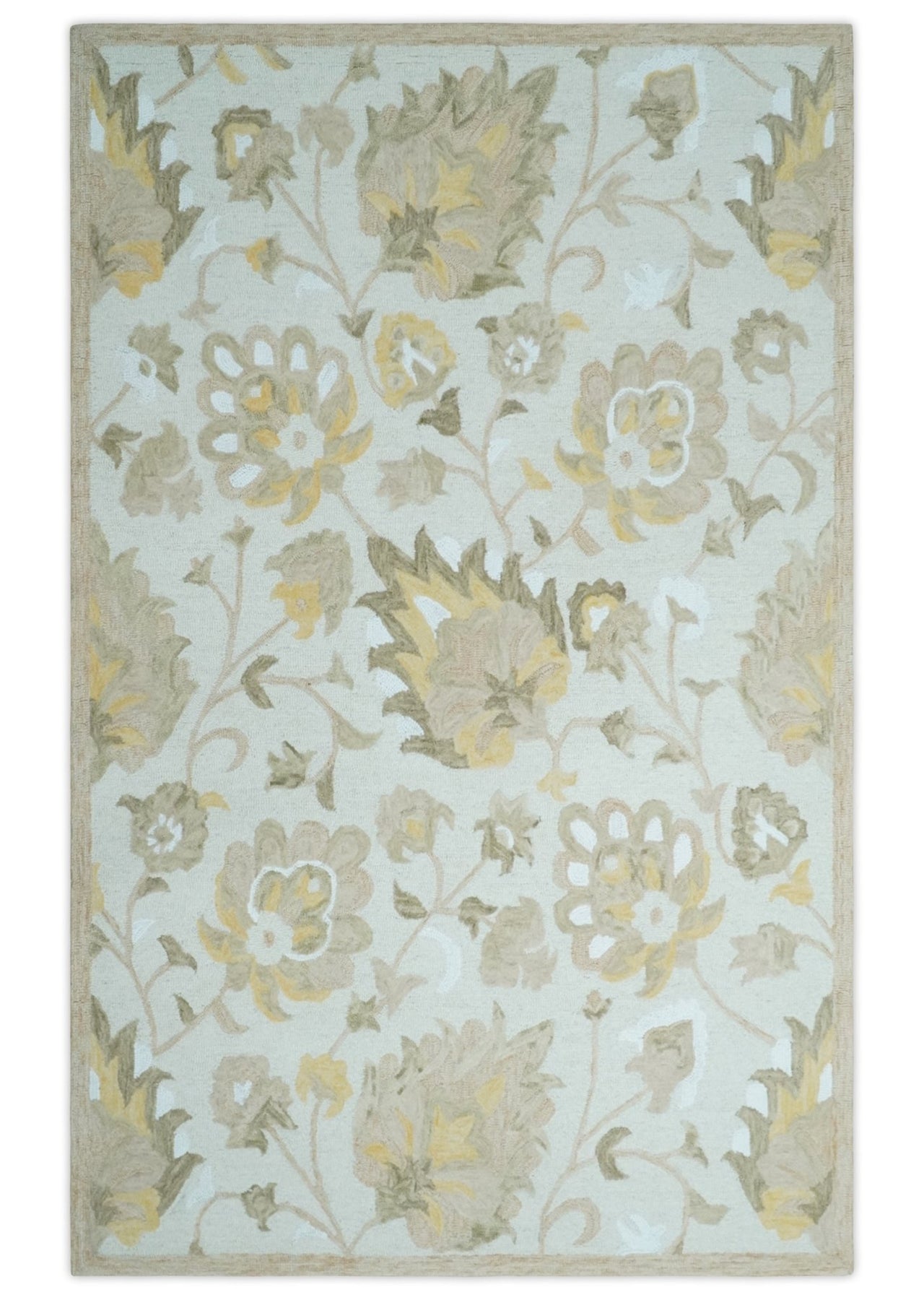 Buy Now - Hand Tufted Floral Design Runner Rug 
In essence, the size of a runner rug is an important decision that goes beyond aesthetics; it affects the usefulness and overall mood of the place it graces. You ensure that the runner rug becomes an important and harmonious feature in your home design by carefully picking the proportions that fit with your personal demands.
Different placement options for runner rugs
The adaptability of runner rugs extends beyond their aesthetic appeal. In fact, you will be surprised to see their capacity to transform different areas of your home. Understanding the various placement options for runner rugs allows you to maximize their potential, boosting both aesthetic and practicality in a variety of settings.
Hallways
Centerpiece: Placing a runner rug in the center of a corridor is a classic choice. Assemble the rug so that it is uniformly spaced on both sides, forming a symmetrical and welcoming walkway. This arrangement works especially well in longer halls, creating a feeling of equilibrium.
Create layers: Consider stacking many runner rugs in the hallway for a dynamic and attractive layered design. Overlapping carpets can add texture and color differences to the corridor, giving it a focal point while protecting the floor beneath at the same time.
Entryways
Foyer: A runner rug properly placed in the foyer extends a warm and inviting message to guests. Choose a size that allows for adequate clearance around the door, preventing any impediment while keeping a welcoming ambiance.
Defining spaces: A runner rug can be utilized to delineate the entry zone in open-concept houses where the doorway effortlessly transitions into other living spaces. This slight demarcation gives a sophisticated touch to the overall design.
Staircases
When installing runner rugs on staircases, safety is of the utmost importance. Ideally, the runner rug should cover each step, giving a sturdy and slip-resistant surface. To avoid movement, secure the rug firmly in place.
Extend the runner rug horizontally along the length of the staircase to create a unified and elegant visual impression. Stair runners not only give a decorative touch, but they also protect the steps from wear and strain.
Kitchen
Sink and Counter Areas: Runner rugs can be strategically placed near sink and counter areas in the kitchen. This adds an aesthetic element to the often-utilitarian space while also providing a pleasant surface underfoot during culinary tasks.
If you have a kitchen table, a runner rug next to it can help define the space and contribute to the overall design. For a better aesthetic, make sure the rug compliments the existing colors and patterns in the kitchen.
Bedroom
Runner rugs on either side of the bed provide a soft and comfy place for your feet when you get out of bed. This positioning lends a touch of grandeur to the entire bedroom design.
Dressing areas
A runner rug can separate the space in bedrooms with distinct dressing areas, offering a visually beautiful and functional zone for getting dressed.
Overall, placing a runner rug properly is an art that goes beyond simple home decor. It includes careful consideration of the unique needs and dynamics of each place. By carefully putting runner rugs in hallways, entryways, staircases, kitchens, and bedrooms, you not only improve the visual aesthetics of these areas, but you also add a practical element that enriches the overall design of your home.
FAQs
What is idea kitchen runner rug size?
Determining the ideal kitchen runner rug size depends on the dimensions of your kitchen space. Typically, a popular choice ranges from 2 to 3 feet in width and 6 to 10 feet in length, allowing the rug to cover high-traffic areas while complementing the layout of the kitchen.
---
---
Recommended Blog Post