The Rug Buying Guide | Tips for Finding Your Perfect Rug
When it comes to enhancing the aesthetics and comfort of your living space, rugs play a vital role. They not only add warmth and style but also define the character of a room. Now, choosing the most suitable rug for your home or workplace can be an exhausting task with multiple options available in the market. Therefore, this rug buying guide will help you choose the perfect rugs for your home or workplace.
This comprehensive rug buying guide will also help you understand your carpet needs better, ensuring that you make an informed decision when purchasing a rug. By understanding your needs, considering the key factors, and knowing where to source the rugs, you can confidently select the perfect rug to enhance your space and create a welcoming ambiance.
Understand your needs and space
Before

buying a rug

, it is essential to understand your needs and assess your space. Consider the following factors to understand

how to choose rug

that will be perfect for your space:

Start by measuring the area before choosing the rug you want to place there. Ensure that you leave enough space around the furniture for a balanced look. Smaller rugs can be used as accents, while larger ones can anchor the room.

Determine how the rug will be used. Are you looking for a cozy rug for the bedroom or a durable one for a high-traffic area? Different rooms have different requirements, so keep that in mind while choosing the rug.

Consider the overall decor style of your space before

buying a rug

. Do you prefer a traditional, modern, contemporary, or natural aesthetic? The rug should complement the existing elements in the room and add to the desired ambiance.
About rugs
Understanding the key aspects from this rug guide will enable you to make a good decision. Check the following list for more details:
Materials
Rugs are made from a variety of materials, each offering unique characteristics. Learn about the most common materials from this rug buying guide. While these are the usual materials, there are several others that are available at The Rug Decor.
     

Cotton

: Lightweight and easy to clean, cotton rugs are versatile and perfect for casual spaces.

     

Silk: Known for its luxurious feel and lustrous appearance, silk rugs are exquisite but require delicate care.

     

Synthetics

: Materials like nylon, polyester, and polypropylene offer affordability, durability, and resistance to stains and fading

.

     

Wool

: A popular choice due to its durability, softness, and natural stain resistance, rugs made of premium quality wool can endure heavy foot traffic.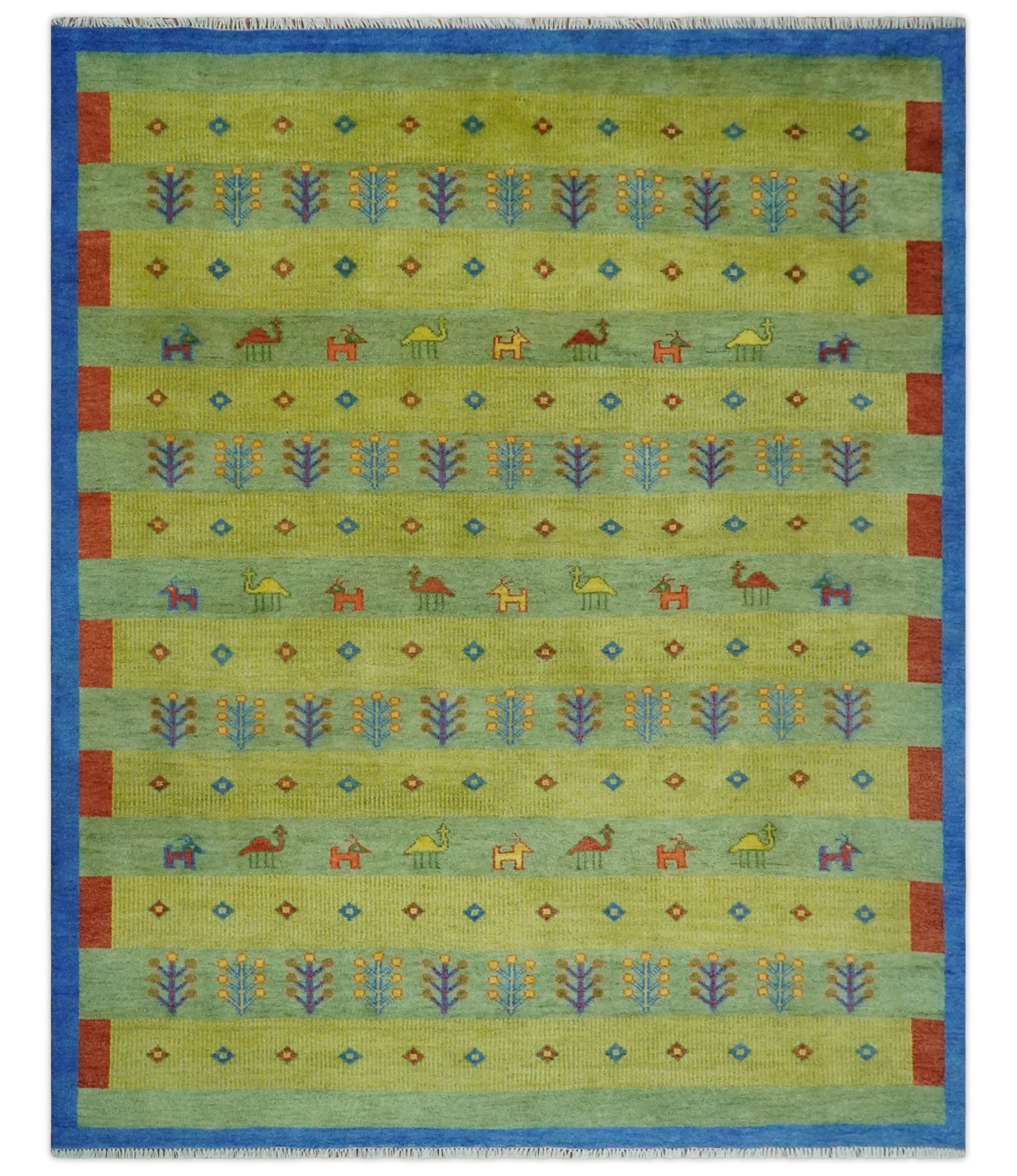 Construction
Rugs are crafted using various construction techniques, which determine their appearance and durability. Common types of rug construction include:
     

Flatweave: Woven on a loom, flatweave rugs have no pile, making them reversible and ideal for high-traffic areas.

     

Hand-Knotted

: Intricate and time-consuming, hand-knotted rugs are made by tying individual knots to create the design.

They are highly durable and can last for generations.

     

Hand-Tufted

: Made by punching strands of yarn into a pre-drawn canvas, hand-tufted rugs offer a blend of quality and affordability.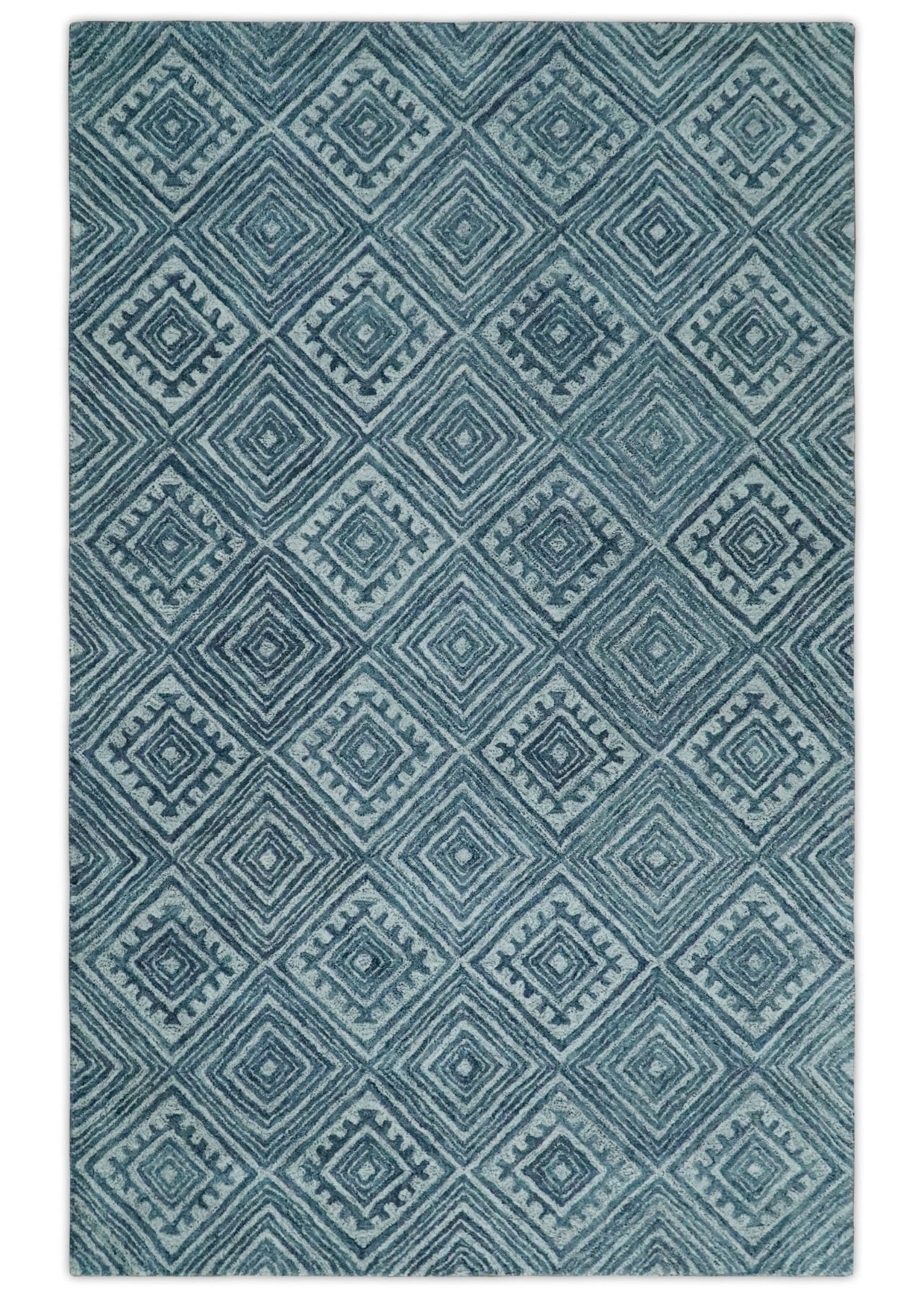 Style
Rugs come in a wide range of styles, allowing you to express your personal taste. Some popular styles include:
     

Traditional

: Defining timeless elegance,

traditional rugs

feature intricate patterns, borders, and classic motifs.

     

Modern

: Characterized by bold colors, geometric designs, and abstract patterns,

modern rugs

add a contemporary touch to any space.

     

Contemporary

:

Contemporary rugs

are known for their artistic flair, often featuring unconventional shapes, textures, and vibrant colors.

     

Naturals

: Made from natural materials like jute, sisal, or seagrass, natural rugs offer an organic and eco-friendly option, bringing a touch of nature indoors.
Choosing the right rug by room
Different rooms have specific requirements when it comes to rugs. Here are some tips on how to choose rug and place them in each room:
Living Room
In a living space, rugs provide a level of comfort and also makes the space more attractive, making you want to curl up and relax in elegance. Following these two guidelines will help you choose the right rug for your living room:
     

As per a classic layout, if the furniture is against the wall, choose a rug that begins at least 20 cm in front of the sofa or sits just at the end of the furniture.

     

The rug should be large enough to go below the two front legs of the sofa or other major pieces of furniture in open-plan living rooms, with at least 6 inches on either side. This is done to make sure the rug is appropriate for the room, resulting in a relaxed and welcoming atmosphere all around.
Tip: Choose a rug that can properly accommodate all the main furniture and leaves a border of about 18-24 inches. This helps define the seating area and creates a cohesive look.
Dining Room
Make sure the rug in your dining room is large enough to cover the space even when the chairs are moved out for use. For maximum impact, designers prefer to keep a 24-inch circle of additional carpet surrounding the eating area.
On the other hand, leaving some buffer area on the sides of carpets will ensure that the legs of your chair does not get stuck to the fabric. For a more refined look, see if the shape of the table can be countered with that of the rug. For example, your first choice for a square dining table maybe a square rug. However, a square table will look best when placed on a round rug.
Tip: Choose a rug that extends beyond the dining table and chairs, allowing ample space for movement when pulling out chairs.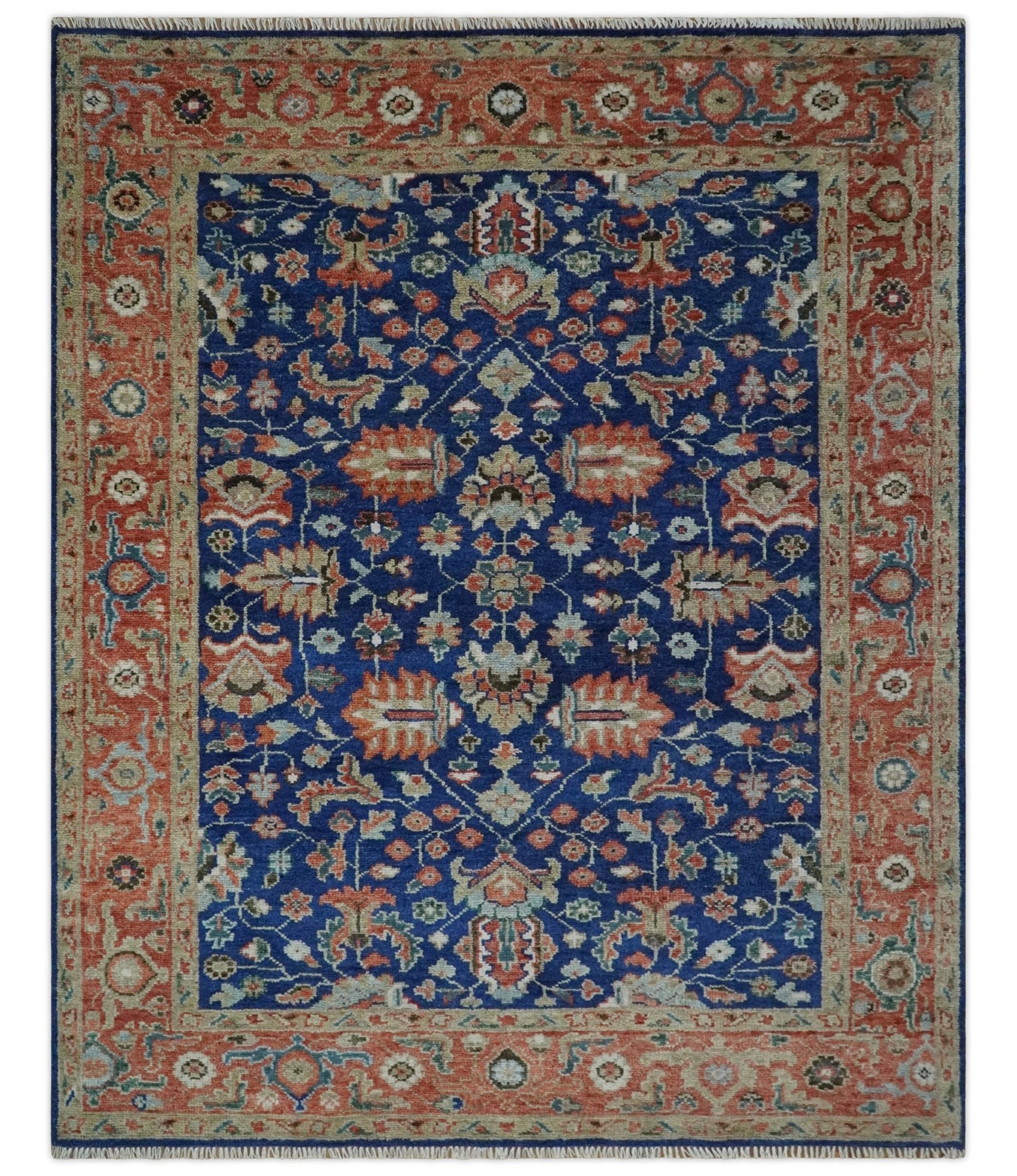 Bedroom
If you are using a smaller rug in the bedroom, let half of it go beneath the bed. The space becomes symmetrical as a result. Additionally, you could use matching rugs on either side of the bed or pick a carpet that is big enough to fit below the bed while still being visible.
For maximum visual effect, you can use a full-size carpet to run under the four-poster bed and along the entire stretch. Everything should overlap the carpet's edges, giving the space a finished, put-together appearance.
Tip: If you have a large rug, place it under the bed, extending it beyond the sides and foot of the bed. This creates a cozy and comfortable atmosphere.
Kitchen
Kitchens are the busiest spaces in any household, and requires special attention when it comes to choosing the perfect rug. It is why, you must go for something that is highly durable, functional, and easy to maintain for your kitchen.
It is also essential to choose the right color rugs for your kitchen because these are subject to frequent spills and stains. Since a messy clean-up might result from high-pile rugs or anything too textured that is likely to retain dirt and debris, it is wiser to choose something lighter.
In case of a flatweave rug that is also low-pile, it souls up liquid spillages and the mat underneath prevents trips and falls as well. Moreover, a long runner will provide color and texture to an otherwise simple design; bonus points for the visual coziness it creates.
Tip: Consider a durable and stain-resistant rug that can withstand spills and frequent cleaning. Look for low-pile or flatweave options for easy maintenance.
Office
Choosing the right rug for your office can greatly enhance the overall aesthetics and functionality of the space. 
     

Budget

: Set a budget and explore various options within that range. It's important to strike a balance between quality, style, and cost-effectiveness.

     

Functionality: Consider the rug's purpose in the office. If it's for a waiting area, choose a soft and comfortable option. For high-traffic areas, consider low-pile rugs that are easy to clean.

     

Material and Durability

: Go for durable materials like nylon or wool blends, which can withstand heavy foot traffic and frequent cleaning. Stain-resistant options are also ideal for busy office environments.

     

Size and Shape

: Measure the office area to determine the appropriate rug dimensions. Consider the shape of the room and furniture layout, ensuring the rug complements the space without overwhelming it.

     

Style and Design

: Select a rug that aligns with the office decor and enhances the overall ambiance. Choose patterns and colors that harmonize with existing furniture and walls, while also considering the mood and atmosphere you want to create.
Tip: Choose a rug that complements the overall office decor while providing a comfortable and stylish environment.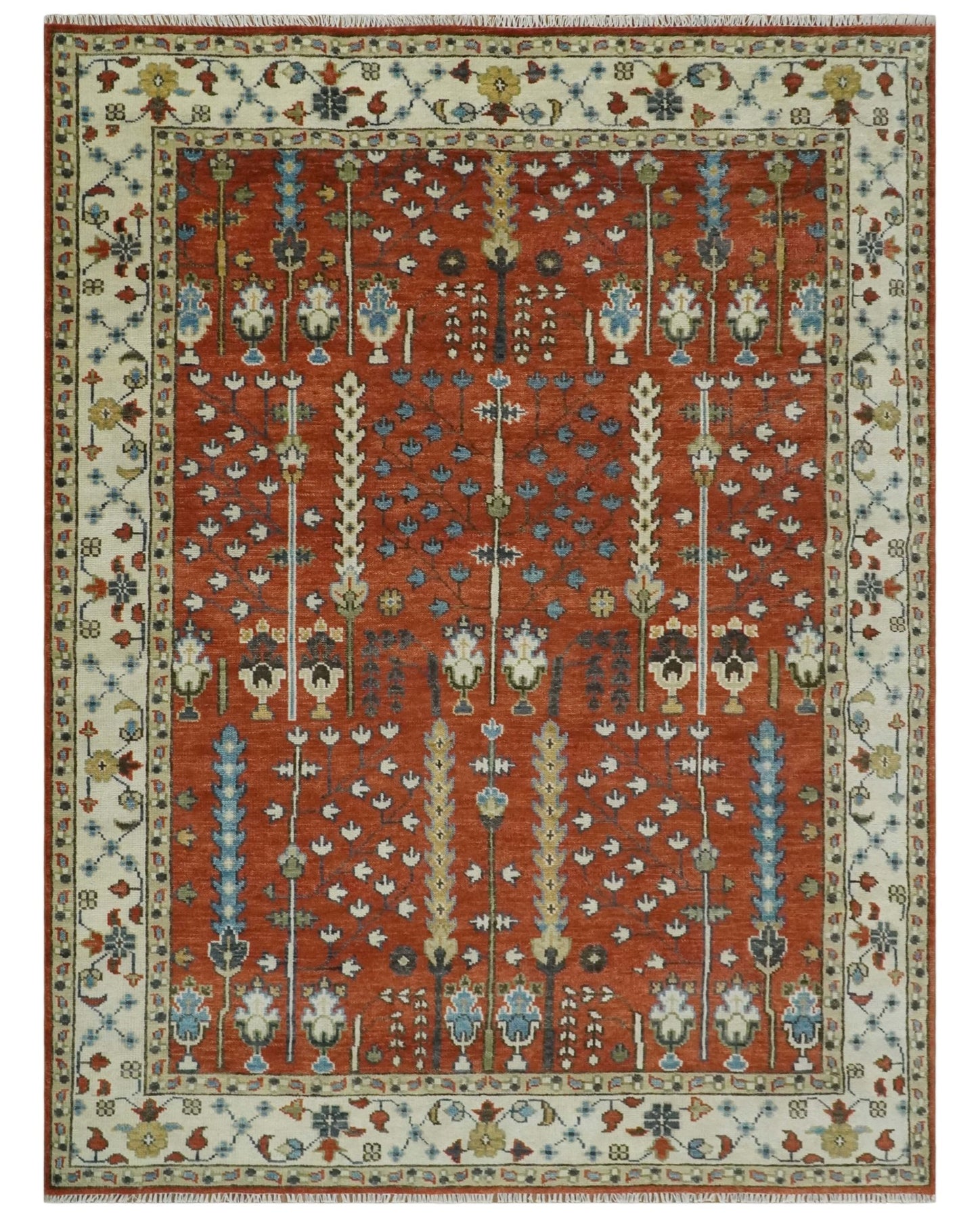 Factors to consider when buying a rug
A room can look cozier and more comfortable with the addition of an area rug. Since it is an expensive investment, you should think about how you intend to use the room and what the rug will need to provide before shelling out the cash for a new rug.
Finding a cheap rug is not the goal here! Instead, you must find the rug that will complement your furniture and décor. You must make a wise decision because the rug you choose has a lot of functionality and importance when it comes to the overall home decor. 
In this section of our rug buying guide, let's look at some factors to consider before purchasing a new rug:
Individual Style
Although it may seem obvious, your own preferences should come first when selecting an area rug. Remember, rugs are long-term investments and you won't want to keep something at home that does not reflect your style for too long. Consider if your style is traditional, contemporary, or transitional for starters as you go about following the next simple steps for choosing the correct rug.
Rug Cleaning and Maintenance
Area rugs of superior quality require routine, and expert cleaning. There is more resonance if rug in your home is exposed to heavy traffic or the construction material you choose is a natural fabric such as wool, and proper maintenance is not being done. 
Remember that a rug can get very dirty and unhygienic if deep cleaning is not considered at least twice a year. Although, you will have several ways to clean it at home regularly, relying on professionals from time to time is essential. Note that some rugs require less maintenance than others.
Usage of the rugs
Do members in your family, such as young kids, frequently sit or play on the floor? Is all the your room needs is a bright accent piece? Shag or sisal rugs can perform well in low-traffic areas, whereas low-pile and flat-weave rugs are ideal for high-traffic areas. Therefore, consider the usage of rugs before ending up investing in one.
Room placement
Naturally, you'll need to determine the size of the selected room and work out a floor plan. To define the space, you should preferably place the table and all of the chairs on the rug you choose for the dining room.
If you're selecting a rug for the living room, you might choose something smaller that only covers the coffee table. It could be better to use a very long, narrow mat in the front entryway.
A huge rug placed underneath the bottom of the bed in the bedroom is sufficient, as are two long runners placed on either side of the bed. Consider how much traffic the rug will receive and whether it has chances of getting stuck to the door every now and then.
Your lifestyle
It's crucial to take your lifestyle into account when choosing a rug because not every rug will fit your needs. Do you have kids and animals? Choose a rug with a low pile that can withstand spot cleaning and is simple to clean. Would you like to frequently modify your decor? Instead of buying one more costly rug, think about buying two or three less expensive ones.
Feel of the rug
One of the main motives for purchasing rugs is the cozy feeling they provide when you walk on it barefoot. Make sure the rug material you select feels cozy. A low-pile rug can be cozier with a carpet cushion underneath, especially for kids or other people who might want to sit on it.
Pattern
Consider a timeless design like those seen in vintage, antique, or Moroccan carpets if you're investing a lot of money on a rug. One day, you may wish to pass it down to your next generation too. Although more contemporary carpets can look fantastic in a space, they are more likely to need to be replaced quickly when they become outdated.
Size
When looking for a rug, it's also crucial to have your room measurements in advance so you can pick something that will perfectly fit in the space. Taking up every square inch of a room while placing a rug will not look good, and a rug that is too small will also look very odd. Note that, you should have carpets just in places where you're likely to walk barefoot, and you should leave the correct amount of space around them.
Chances of shifting
Think about whether you'll still be able to fit the rug into your new room if you're intending to move soon. You might need to get rid of the carpeting sooner than you anticipated if the rooms in your new home are noticeably bigger or smaller than those in your previous one.
Existing décor
Pick a rug that goes well with the color scheme of your room. A rug with a dramatic pattern may work in a space with otherwise neutral decor, whereas one with a neutral color scheme may appear better in a space with a more unique and bolder design.
A new area rug selection can be a difficult choice. Make sure you consider whether the rug will actually fulfill your demands and also if you can properly care for it. You'll be able to select a rug that you and your family can appreciate for many years if you take the time to make a thoughtful, careful selection.
Best place to shop rugs
The Rug Decor stands head and shoulders above the competition as the premier destination for rug enthusiasts. With its unparalleled selection, exceptional quality, and outstanding customer service, The Rug Decor is truly the best place to shop for rugs.
Best collection
The Rug Decor boasts an extensive collection of rugs that caters to every taste and style. Whether you're seeking a luxurious Persian rug, a trendy contemporary design, or a timeless traditional piece, they have it all. Their vast inventory ensures that every customer can find the perfect rug to complement their home decor.
Top-quality
The Rug Decor sets the standard. They source their rugs from renowned manufacturers and artisans who excel in craftsmanship and use only the finest materials. This commitment to excellence guarantees that each rug is built to last, maintaining its beauty and durability for years to come.
Customer service
What truly sets The Rug Decor apart is their exceptional customer service. Their knowledgeable and friendly staff are passionate about rugs and are always ready to assist customers in finding the ideal rug for their needs. Whether you need guidance on the right size, color coordination, or maintenance tips, their experts are eager to provide expert advice and personalized recommendations.
User experience
The Rug Decor offers a seamless shopping experience both in-store and online. Their website is user-friendly, featuring detailed product descriptions and high-resolution images that allow customers to examine every aspect of a rug before making a purchase. Furthermore, their shipping and return policies are hassle-free, ensuring customer satisfaction and peace of mind.
The Rug Decor goes the extra mile to provide value to its customers. They frequently offer special promotions, discounts, and sales, allowing customers to acquire their dream rugs at affordable prices. Moreover, they provide educational resources on rug care and maintenance, ensuring that customers can enjoy their rugs for a lifetime.
The Rug Decor stands out as the premier destination for rug shopping due to its vast selection, exceptional quality, outstanding customer service, and commitment to customer satisfaction. Whether you're a seasoned rug connoisseur or a first-time buyer, The Rug Decor is the ultimate choice for all your rug needs.
FAQs
How to choose a rug?
When choosing a rug, consider factors such as size, material, construction, style, and the specific needs of your space. It's also essential to trust your personal taste and select a rug that speaks to you.
How to choose a rug color?
Consider the color palette of your room and choose a rug color that complements or contrasts with the existing elements. While bold hues can easily create a statement, the more neutral shades offer a versatile look too. 
How to pick a rug for living room?
In the living room, choose a rug that accommodates all the main furniture, leaving a border of about 18-24 inches. This helps define the seating area and creates a cohesive look.
What to look for when buying a rug?
Look for quality construction, durability, appropriate size, and a design that suits your style and space. Additionally, consider maintenance requirements and your budget.
How do you tell a good quality rug?
Good quality rugs have tightly woven fibers, consistent patterns, and even edges. They feel substantial and well-made, with attention to detail in their construction.
What is a reasonable amount to spread on a rug?
The price of rugs can vary significantly based on factors like size, material, construction, and brand. Chalk out a budget that can accommodate all your priorities and needs. 
What to avoid when buying a rug?
Avoid rugs with poor construction, loose fibers, or uneven edges. Also, be cautious of purchasing rugs that are too small for the intended space, as they can look disproportionate.
---
---
Recommended Blog Post