Choose the correct kitchen rug size with the help of this guide
Choosing the right kitchen rug size can be a tough undertaking, but fear not! In this detailed guide, we will give you with expert suggestions and practical guidance to ensure that your kitchen rug not only adds a touch of flair but also fits beautifully into your cooking environment.
Let's delve in and learn the secrets of making the right decision with the help of this detailed kitchen rug size guide.
Introduction
Your kitchen can be instantly transformed into a cozier, more inviting, and fashionable place by adding a rug to the decor. However, if you don't know where to begin, picking the right kitchen rug size can be a little difficult. A rug that is too little could be overlooked in the space, while one that is too enormous could overtake it and give the area a congested appearance.
The best kitchen rug sizes typically range from 2'x3' to 3'x5', as these dimensions are versatile enough to fit in most kitchen layouts while still providing ample coverage in high-traffic areas. A kitchen rug that measures 2'x3' is ideal for smaller kitchens or to be placed in front of the sink or stove, offering comfort and protection in key work zones. For larger kitchens or those with an open floor plan, a 3'x5' rug offers more coverage, making it perfect for defining specific areas like the cooking space or breakfast nook.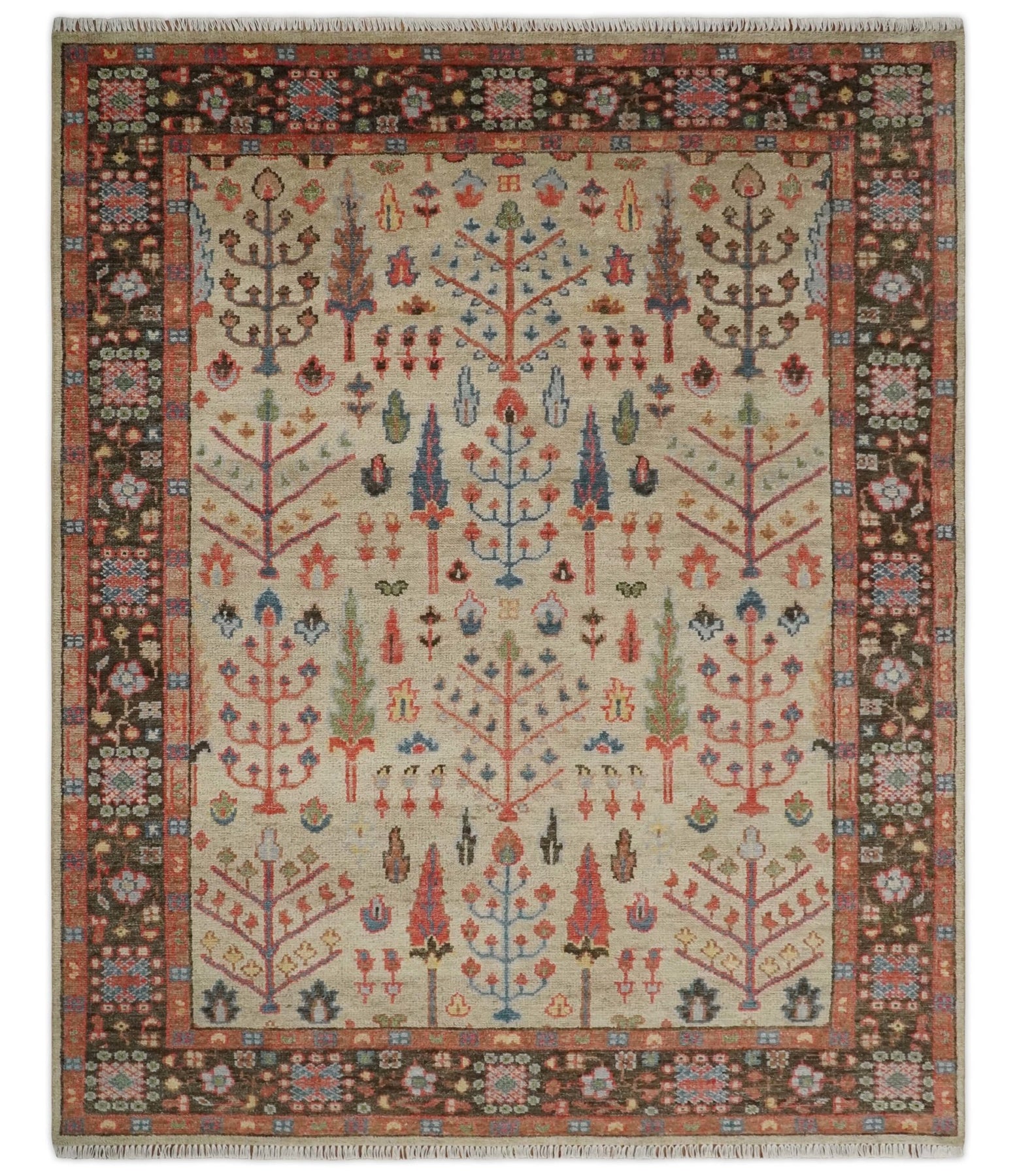 Shop Now - Hand Knotted Traditional Kitchen Rug 
To assist you in choosing the ideal kitchen rug size that meets your requirements and improves the overall aesthetics of your culinary refuge, we've put together this detailed guide.
Let's first examine some typical rug sizes for the kitchen before getting into the details. While there aren't any hard-and-fast guidelines for selecting a rug size, certain proportions typically fit nicely in most kitchen areas.
Small Accent Rugs: These kitchen rugs, which are normally 2'x3' or 2'x4' in size, are ideal for creating a splash of color and texture in front of the stove, sink, or other tiny kitchen fixtures. They offer a cozy cushion for your feet as you cook or do the dishes and are perfect for guarding heavily used areas.
Runner Rugs: runner size rugs for kitchen are often long and narrow, measuring around 2'x6', 2'x8', or 2'x10'. These rugs add aesthetic flair while preserving the floor in high-traffic areas, making them an excellent choice for galley kitchens or small areas.
Area Rugs: Depending on the size of your kitchen, area rugs might range from 4'x6' to 8'x10' or even bigger. Within an open-concept kitchen, these carpets can serve as a grounding element and to distinguish various regions. They add comfort and style and work nicely beneath dining tables or in kitchens with islands.
After getting an overview of typical kitchen rug size, it's time to get more precise about selecting the ideal size for your own kitchen's layout and needs. We'll go through a number of things to think about, including the design of your kitchen, where you put your furniture and appliances, and your personal preferences for style, in the parts that follow.
Always remember that striking a balance between utility and aesthetics is crucial. So, let's continue this advice and make sure you pick the ideal kitchen rug size that perfectly matches your room!
How to choose and measure suitable kitchen rug size?
Assess Your Kitchen Layout
Start by evaluating the layout of your kitchen and deciding where you want to install rugs. Common locations include the area directly in front of the stove, sink, island, or dining table. It will be easier to choose the right size if you are aware of the precise regions in which a rug is required.
Measure the Space
Measure the size of the desired area using a measuring tape. Measure the width and length of the area you wish to cover before shopping for smaller accent rugs. Measure the length of the floor space where you want the runner rug to run if you're thinking about getting one. Measure the width and length of the total area you want the rug to cover if you need a larger area rug.
Allow for Clearance
Make careful to include space around the rug's edges when measuring. A decent rule of thumb is to leave a minimum of 6 to 12 inches between the rug and any furniture or walls. This gives the rug a visually pleasing border and keeps it from appearing crowded.
Consider Furniture Placement
Measure the size of the furniture, such as a dining table or an island, before putting a rug underneath to make sure it will fit. To provide enough room for chairs to be moved out without slipping off the floor, the rug should extend beyond the edges of the table.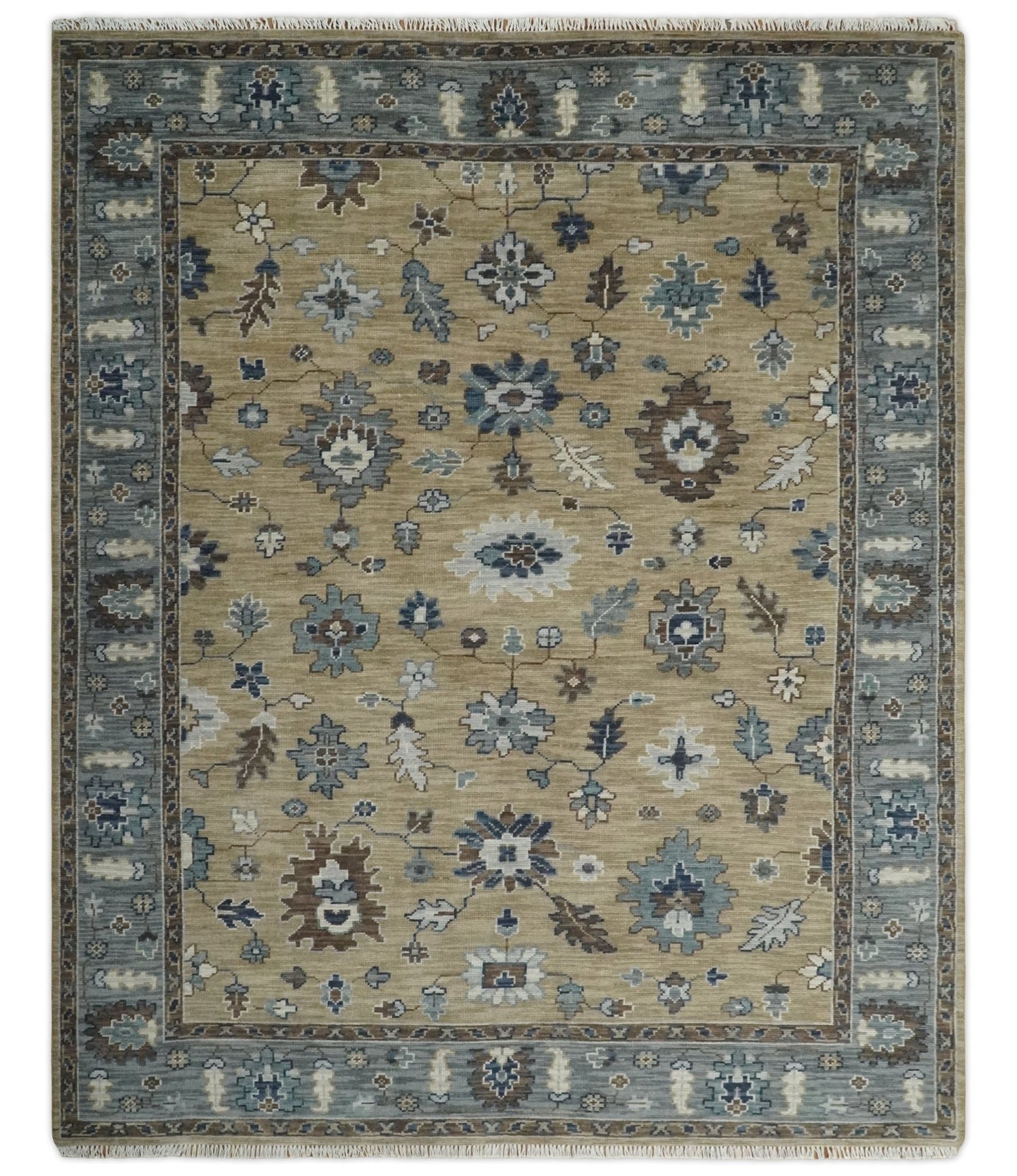 Visual Balance
Choose a rug size that balances the room visually while taking into account the overall design of your kitchen. A rug that is too small might not stand out, while one that is too big might dominate the space. Aim for balance and proportion between the rug, furniture, and the surroundings.
Suitable kitchen rug sizes
To design an elegant and useful room, your kitchen rug must be the appropriate size. The right rug size will depend on the size of your kitchen and the precise places you wish to cover. The sizes of kitchen rugs that are appropriate for various types of kitchens and certain spaces, such as tiny kitchens, medium-sized kitchens, large kitchens, long kitchens, and the area in front of the stove and sink, will be discussed in this section.
Small kitchen
It's crucial to pick a rug size for a small kitchen that gives warmth and flair without taking up too much room. Here are some suitable rug sizes for small kitchens:
Accent Rug: The area in front of the stove or sink can be covered with a small accent rug that is around 2'x3' or 2'x4' to give a cozy surface for meal preparation or dishwashing. Without taking up much floor space, it gives the kitchen a splash of color and texture.
Runner Rug: For tiny kitchens, a thin runner rug measuring approximately 2'x6' or 2'x8' can be a fantastic option. Put it in front of the sink, or extend it along a counter or set of cabinets. A runner rug visually widens the room, giving the impression that it is larger.
Medium kitchen
In a medium-sized kitchen, you have more flexibility in choosing rug sizes. Here are some suitable options:
Area Rug: An area rug measuring around 4'x6' or 5'x7' can be placed in the central area of the kitchen, creating a defined space. It works well under a dining table or in front of a kitchen island, anchoring these areas and adding comfort underfoot.
Runner Rug: If you have a long and narrow kitchen, a runner rug measuring around 2'x10' or 2'x12' can be used to accentuate the length of the room. Place it along the length of the kitchen to visually elongate the space and protect high-traffic areas.
Large kitchen
In a spacious and open kitchen, larger rugs can be used to define separate areas and add a sense of grandeur. Consider the following options:
Area Rug: The primary seating or dining area of a big kitchen can accommodate an area rug that is around 6'x9' or 8'x10' in size. This size leaves a border of flooring exposed while providing adequate coverage to frame the space.
Multiple Rugs: You can use several rugs to separate each room in a big kitchen with several working parts. Use a rug in front of the sink or cooking area and another under the dining table, for instance. Make sure the rugs match in terms of both style and color.
Long kitchen
In a long kitchen with a narrow width, you can make use of runner rugs to optimize the space. Here's what to consider:
Multiple Runner Rugs: If your kitchen is long and narrow, you might want to think about utilizing many runner rugs to divide the room and create a pleasing visual flow. Choose 2'x6' or 2'x8' runner rugs and strategically position them down the length of the kitchen.
Placement: Make sure the runner rugs stretch the length of the room and place them in front of the counter, stove, or sink areas. This enhances the definition of several functional zones and gives the entire kitchen design a unified appearance.
In front of kitchen sink and stove
The areas in front of the sink and stove are commonly high-traffic zones in the kitchen. Choosing the right rug size for these areas is crucial for both style and functionality. Consider the following options:
Accent Rug: Place a small accent rug, preferably 2'x3' or 2'x4', in front of the stove or sink. It gives you a cushioned place to stand on and helps keep you from getting tired when working in the kitchen.
Runner Rug: A runner rug in the range of 2'x6' or 2'x8' can be positioned in front of longer counters or kitchen islands. This enhances the interior's overall appeal while serving to preserve the flooring from spills and stains.
It's crucial to take into account the rug's overall proportion to the size of the kitchen and the surroundings in every situation. A balanced and visually pleasing appearance is produced by leaving a border of flooring exposed around the rug.
Keep in mind that these are merely basic recommendations, and you should modify them to fit the exact style and proportions of your kitchen. To guarantee a great fit, accurately measure the space before buying a rug.
The proper size kitchen rug improves your cooking area's operation and appearance. It safeguards your flooring from deterioration while also adding warmth, charm, and comfort underfoot. There is a suitable rug size waiting to improve your kitchen design, whether you have a small, medium, large, or long and narrow layout.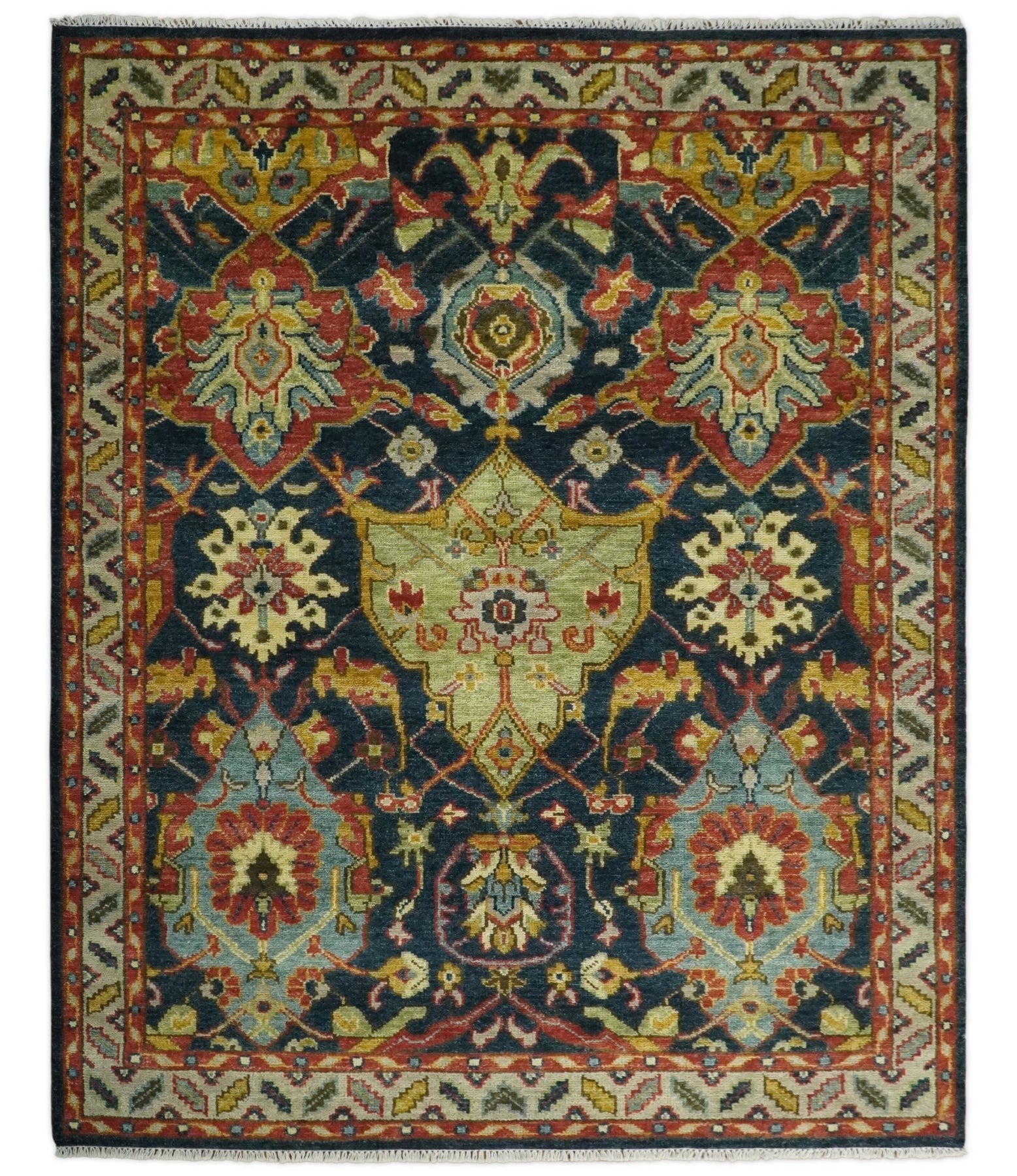 Styling and maintenance tips 
In addition to choosing the correct size, styling and maintaining your kitchen rug properly is essential to ensure it remains an attractive and functional element in your culinary space. Here are some styling and maintenance tips to keep in mind:
Coordinate with your Kitchen Décor
Select a rug that complements the overall style and color scheme of your kitchen. Consider the existing elements such as cabinets, countertops, and backsplash, and choose a rug that either blends in harmoniously or adds a contrasting pop of color or pattern.
Consider Rug Material
Choose a rug material that is tough, cleanable, and appropriate for a kitchen. Often, spills, stains, and excessive foot traffic are dealt with by kitchen rugs. Think about fabrics like cotton, nylon, or synthetic blends that can tolerate routine cleaning and repel stains.
Non-Slip Rug Pad
To avoid slipping and sliding on your kitchen rug, especially if you have hard flooring surfaces, place a non-slip rug cushion below it. The rug pad increases stability, improves security, and shields your flooring from damage.
Regular Cleaning
Spills, crumbs, and filth are commonplace on kitchen rugs. Shake out or vacuum your rug frequently to get rid of any loose dirt. You might even be able to wash smaller carpets in the washing machine. Spot clean spills right away on bigger rugs with warm water and a mild detergent.
Deep Cleaning
Give your kitchen rug a thorough washing once in a while to keep it looking new. You can either utilize a carpet cleaning or professional services depending on the material. Observe the rug manufacturer's detailed cleaning directions.
Rotate the Rug
Rotate your kitchen carpeting every few months to avoid uneven wear. By doing this, foot traffic is more evenly distributed and the rug keeps its natural beauty.
Consider Practicality
In addition to style, think about how practical your rug choice is. Choose darker hues or patterns that can conceal any potential accidents for kitchen carpets because they are subject to spills and stains.
Regular Maintenance
Watch out for frayed edges or dangling threads and fix them right away. Trim any protruding threads to stop additional harm. Additionally, if a stain appears on your rug that you are unable to clean, think about covering it up with furniture or a decorative item.
FAQs
How big should a rug be in a kitchen?
The size of the rug in a kitchen depends on the specific area you want to cover. As a general guideline, measure the space and leave a border of 6-12 inches between the rug and the walls or furniture for a visually appealing look.
What size rug for a small kitchen?
In a small kitchen, consider a small accent rug measuring around 2'x3' or 2'x4' for areas such as in front of the sink or stove. A narrow runner rug measuring around 2'x6' or 2'x8' can also work well to visually elongate the space.
What type of rug is best for kitchen?
For the kitchen, it's best to choose a rug made of durable and stain-resistant materials such as cotton, nylon, or synthetic blends. These materials are easy to clean and can withstand the demands of a kitchen environment.
What size is a 4x6 rug?
A 4x6 rug typically measures four feet in width and six feet in length. This size is suitable for smaller kitchens or to define specific areas within a larger kitchen, such as under a dining table or in front of an island.
---
---
Recommended Blog Post