Hallway runner ideas to transform the look of your entrance
Having good hallway runner ideas for your home can be complete game changers as they are stylish and versatile additions to any space. Apart from protecting the floors from damage, runners can add personality, color, and texture to narrow spaces too. Whether you prefer subtle designs or bold patterns, hallway runners can enhance the look of a space effortlessly.
Hallway runners are excellent options when your goal is to create cohesiveness in your home without changing the existing décor. Having good runner rug ideas will help you to create a balance of all elements such as the wall décor, furniture, color scheme, and more in your home, therefore making it look very harmonious. Further, in this post, let's discuss about some excellent hallway runner ideas and things to consider before choosing the right one.
Now, if you are wondering how to use runner rugs, the good news is that they serve both functional as well as aesthetic purposes. They protect the flooring, reduce noise, and provide a comfortable walking surface while enhancing the overall look and feel of the hallway. With their versatility and design options, hallway runners are an excellent addition to any home seeking a stylish and welcoming entryway.
Functional aspect of hallway runners
Hallways often experience heavy foot traffic, leading to wear and tear on the floor surface. A hallway runner rug acts as a barrier, preventing direct contact between shoes and the floor, which can help extend the life of the flooring material. It also helps to reduce noise and provide a comfortable walking surface, offering cushioning underfoot.
Aesthetic aspect of hallway runners
Aesthetically, hallway runners are a fantastic way to add style, warmth, and visual interest to an otherwise overlooked space. They can transform a bland and utilitarian hallway into a welcoming and visually appealing area. With a wide range of designs, patterns, colors, and textures available, hallway runners from The Rug Decor offer endless possibilities for customization and personalization.
Furthermore, hallway runners can help visually elongate the space and make it appear larger. The long and narrow shape of the rug can create an optical illusion, adding depth and dimension to a hallway. Additionally, they can guide the eye along the path, directing the flow and leading guests to different areas of the house.
Gathering hallway runner ideas is also an opportunity to showcase your personal style and adding a touch of personality to your home. Whether you prefer a bold and vibrant pattern, a subtle and understated design, or something in between, the choice of a hallway runner allows you to express your individuality and create a unique ambiance.
Things to consider while choosing a runner rug
These are a few things to bear in mind when purchasing a hallway runner if you are certain that it will be a useful addition to your home.
Material
You have to take into account the chances of all small accidents, trips, and falls when selecting a material for your hallway rug. There are several risks on each side of the threshold, from leaking grocery bags to playful pets urinating in your foyer. The construction material of your hallway runner rugs should be able to endure them all.
If you are considering natural fibers, remember that monsoon rains and moisture in any other form may impact the longevity of your runner rugs negatively as they are not really moisture-resistant.  Moreover, if someone in your household has an allergy to sustainable fabrics, synthetic fibers perform well.
Choose a polypropylene hallway rug if you have dogs or cats since it is snag-free, moisture-resistant, and easy to clean. For particularly heavily used hallway runner rugs, cotton and nylon are more durable materials.
Colors
Consider your surroundings when selecting the ideal color for your hallway runner rugs. Choosing a colorful hall runner is an excellent way to incorporate personality into an otherwise dull room, especially if the walls of your hallway are painted a neutral color like white, beige, or gray.
Bright, light colors may give your home's entrance a freshness and more liveliness. Buy a runner in a hue that roughly matches the color of the floors if you want a soft, understated corridor rug as it will blend in. You don't have to match rug colors if your hallway terminates in an open doorway that provides a glimpse into the next room. Overall, just make sure your palettes match to ensure there is enough cohesiveness.
It's crucial to pick hallway rugs in a shade that can conceal any unavoidable dirt, debris, or occasional spillage. Note that you will use this rug every day, whether your kids are coming back from the park with soiled shoes, or you coming home on a monsoon day after crossing muddy puddles. Check out hallway runner ideas keeping in mind that these are the first line of defense whenever you step in or out of your home.
Size
Runners come in a range of lengths and widths, but they should always be suited to the curve of your hallway. The first step that you should do while choosing the perfect hallway runner is to measure the space. The typical hallway rug can be anywhere from 2 and 3 feet wide and 6 to 14 feet long. Your carpet runner should ideally have 4 to 5 inches of flooring visible on all sides, acting as hedging. Of course, you don't want the runner to get curled up at the ends of walls instead of having clearly defined borders.
To simplify it all, your hallway runner should match the borders of your entrance. So, if your hallway is lengthier, there are chances of more free space on either ends of the rug. This is acceptable as long as the rug is placed correctly in the middle of the corridor. If your hallway is only a few feet long, an accent rug will do. Even though it doesn't have to cover the entire corridor, it shouldn't be left halfway between entry or partially protruding in front of them.
The ultimate goal of placing a runner is not the same as that of an area rug. In case of a runner, it is there to offer perfect walkability and coverage and then emphasize the aesthetics. There are rugs available that are made expressly to prevent road rash on your carpet or flooring. However, visual symmetry is still important to maintain the appearance of intentionality.
List of runner rugs to choose from
1. An urban touch with Modern Geometric Hall Runners
Embrace contemporary design with modern geometric hall runners from The Rug Decor. These runners are some of the trendiest choices you can make to add character and style to your hallway. With excellent visual appeal, our hallway runners offer a contemporary aesthetic featuring clean lines and stylish patterns.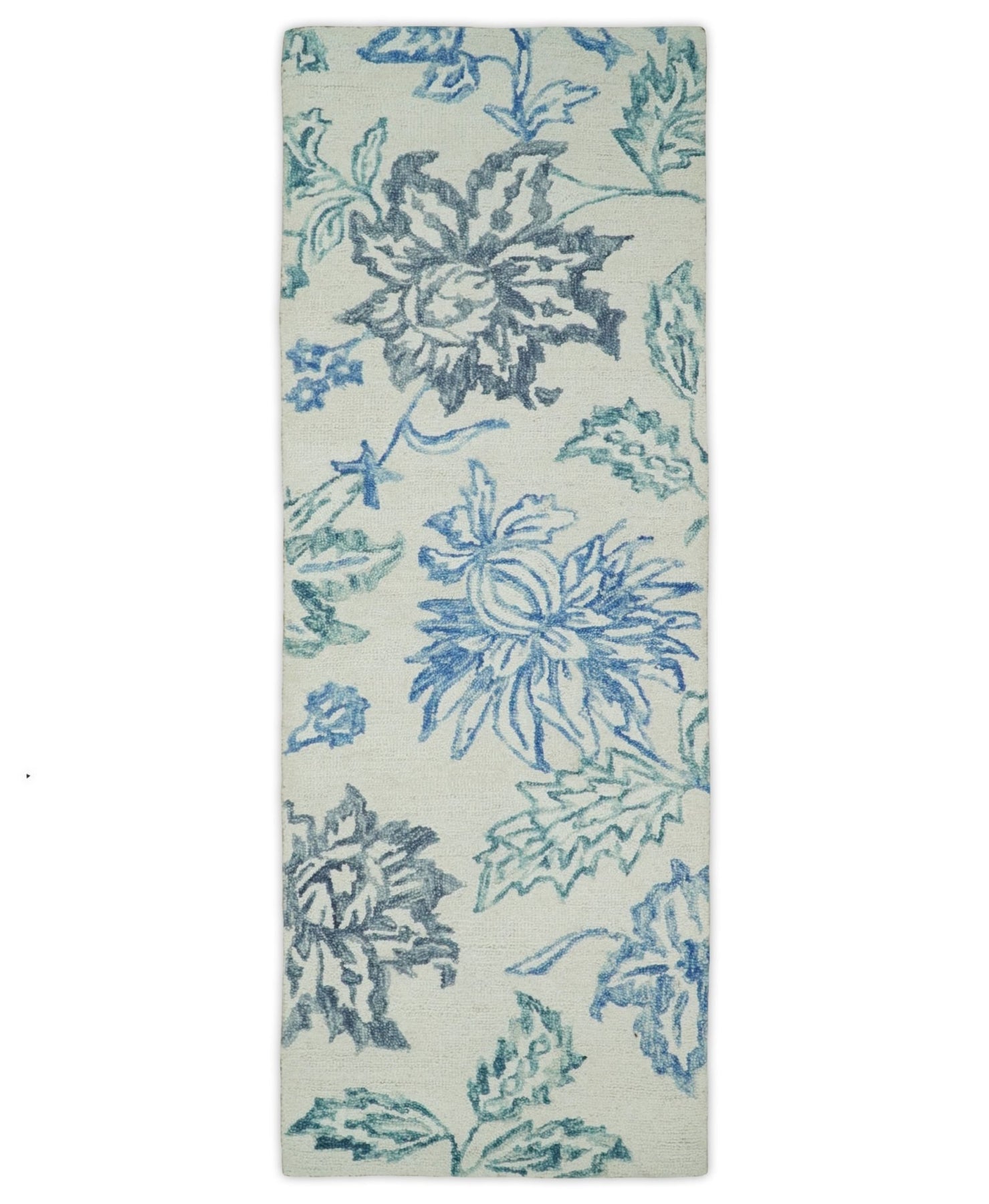 Besides, the runners are made of durable materials such as synthetic fibers, wool, and other blends which makes them easy to maintain and enhances their longevity too. With a wide range of options, it is easy to choose one that suits your home perfectly. Moreover, they have highly versatile designs making them suitable for hallways, entryways, as well as staircases. 
2. Blue Runner Rug for more vibrance
Elevate your hallway with a serene and calming atmosphere by opting for a blue runner rug. Whether you choose a deep navy, a soft sky blue, or a vibrant turquoise, a blue runner rug brings a refreshing and cool ambiance to your space, creating a tranquil and inviting pathway. These rugs are available in various materials such as synthetic, wool, and cotton, along with other blends offering ultimate underfoot comfort and durability.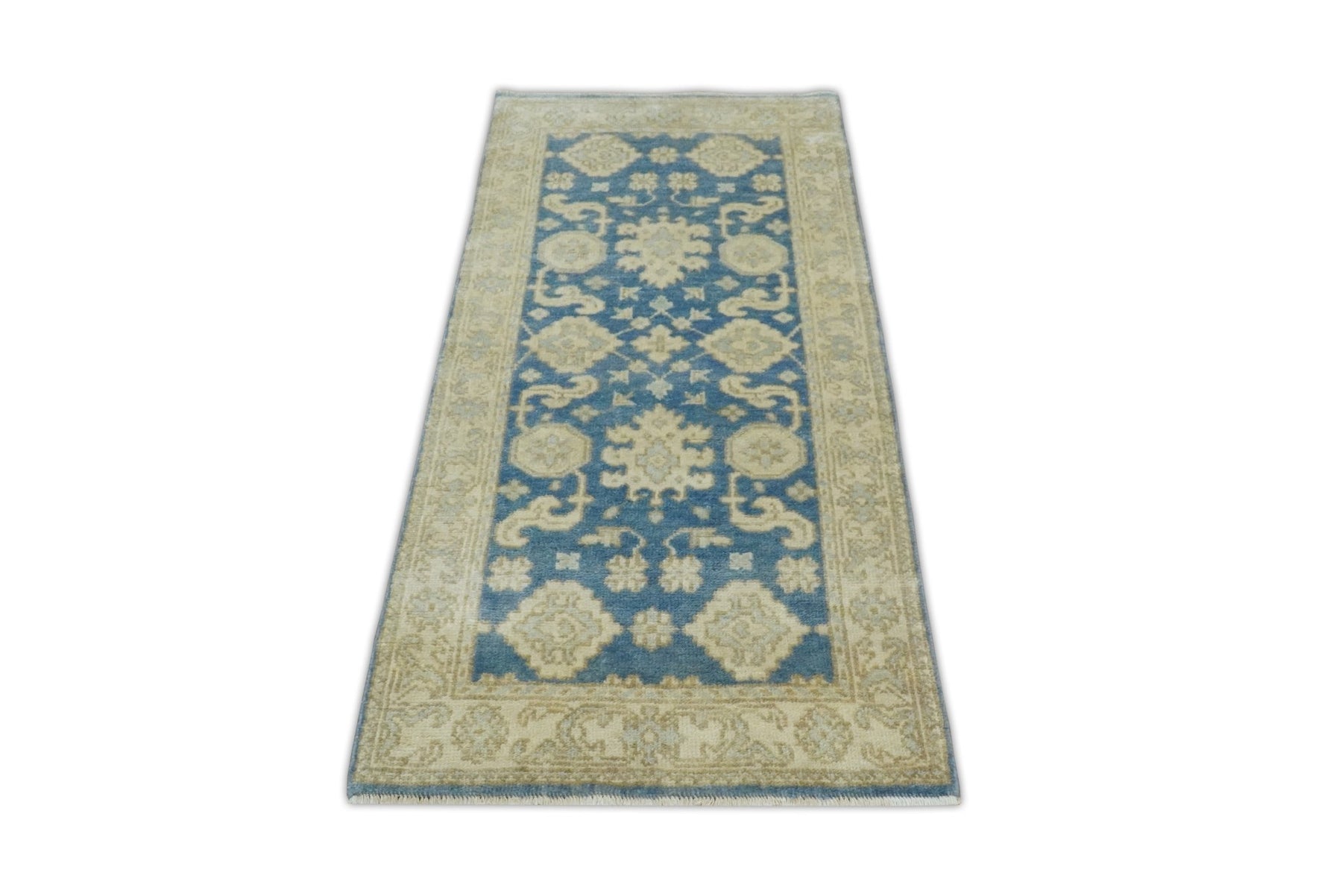 The design options are plentiful too, ranging from solid colors to intricate patterns, allowing you to customize your desired aesthetic. Blue runner rugs are ideal for placement in hallways, entryways, kitchens, or even as a centerpiece for a long table, effortlessly adding a pop of color and warmth to your interior design.
3. Look through a wide range of hallway runner area rugs
Hallway runner area rugs are versatile and practical. These rugs provide coverage for a wider area, extending beyond the immediate walkway, allowing you to define a specific zone within your hallway. They help anchor furniture or create a designated space for seating, adding functionality and style to your hallway.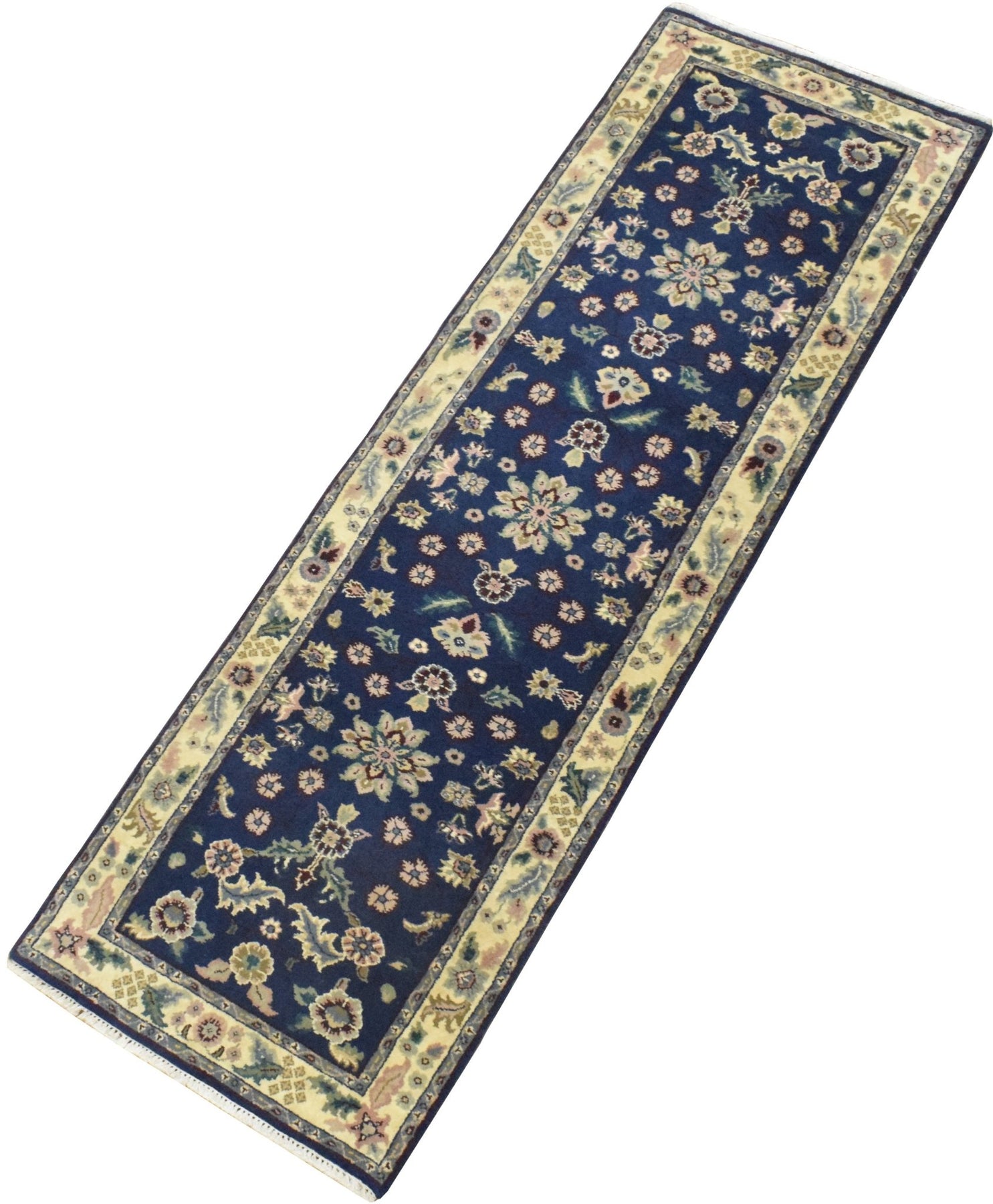 They come in a wide range of styles, allowing you to find one that complements your decor. From traditional and oriental designs to modern and geometric patterns, there's a rug to suit every taste. 
These rugs are crafted from durable materials such as wool, nylon, or polypropylene, ensuring longevity and easy maintenance. Hallway runner area rugs can be placed in various locations, providing both comfort and protection for high-traffic areas. They add warmth, style, and a touch of personality to your home while preventing slips and reducing noise.
4.A cozy atmosphere with a wool hallway runner rug 
A wool hallway runner rug offer a timeless and luxurious option for your space. They exude a classic and elegant style that effortlessly enhances any hallway decor. Wool, a natural fiber, provides exceptional durability, resilience, and softness underfoot.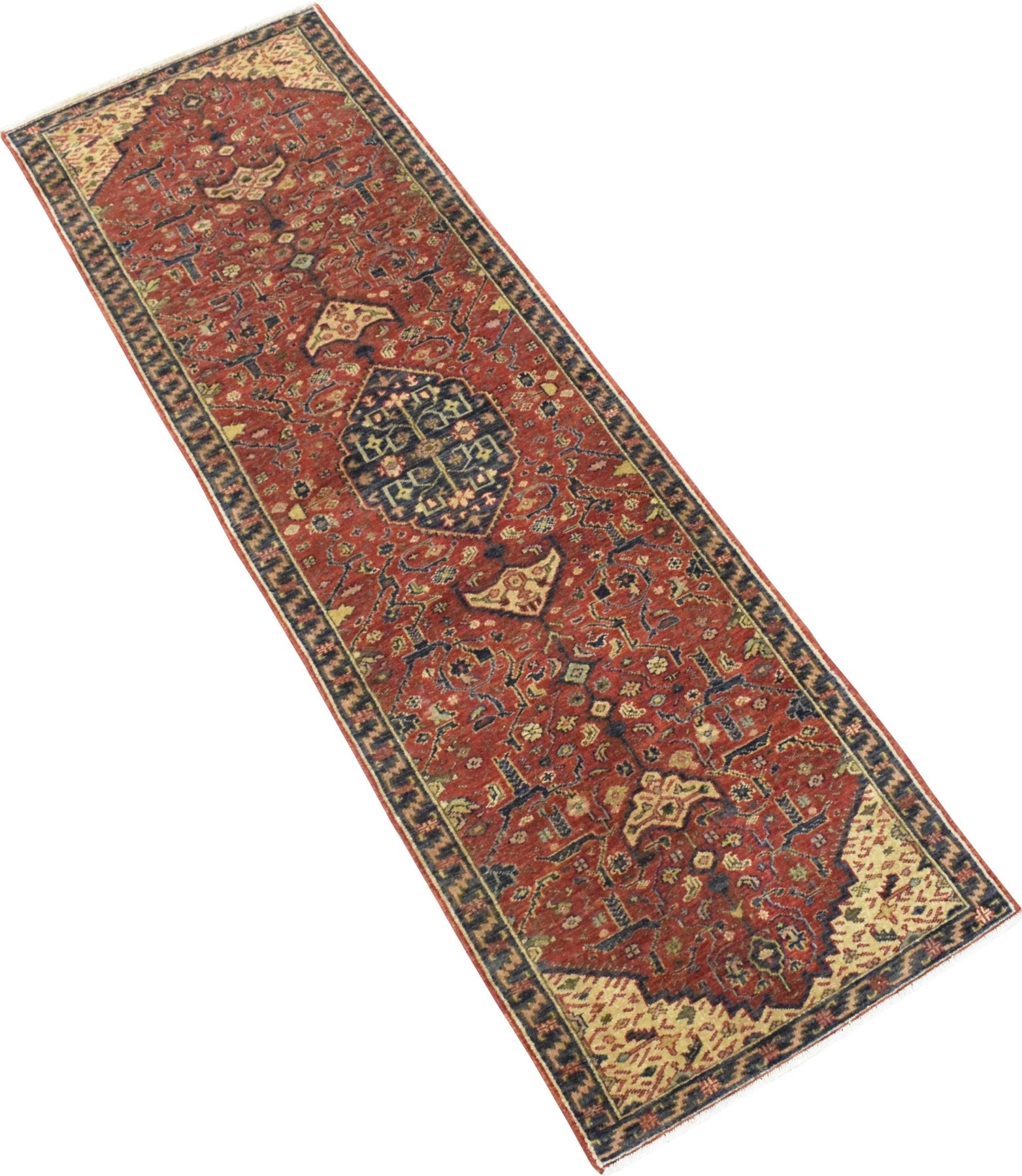 These rugs often feature intricate patterns, such as traditional motifs or modern geometric designs, adding visual interest to your hallway. Wool rugs also offer excellent insulation and sound absorption properties, making them ideal for high-traffic areas. With versatile placement options, bringing warmth, texture, and a touch of sophistication to your home.
5. Long hallway runner rug with beautiful designs and colors
Make a statement in your hallway with a long runner rug. These rugs span the length of your hallway, creating a visually striking and cohesive look. A long hallway runner rug is perfect for larger spaces, accentuating the length and adding a sense of grandeur to your home's entryway.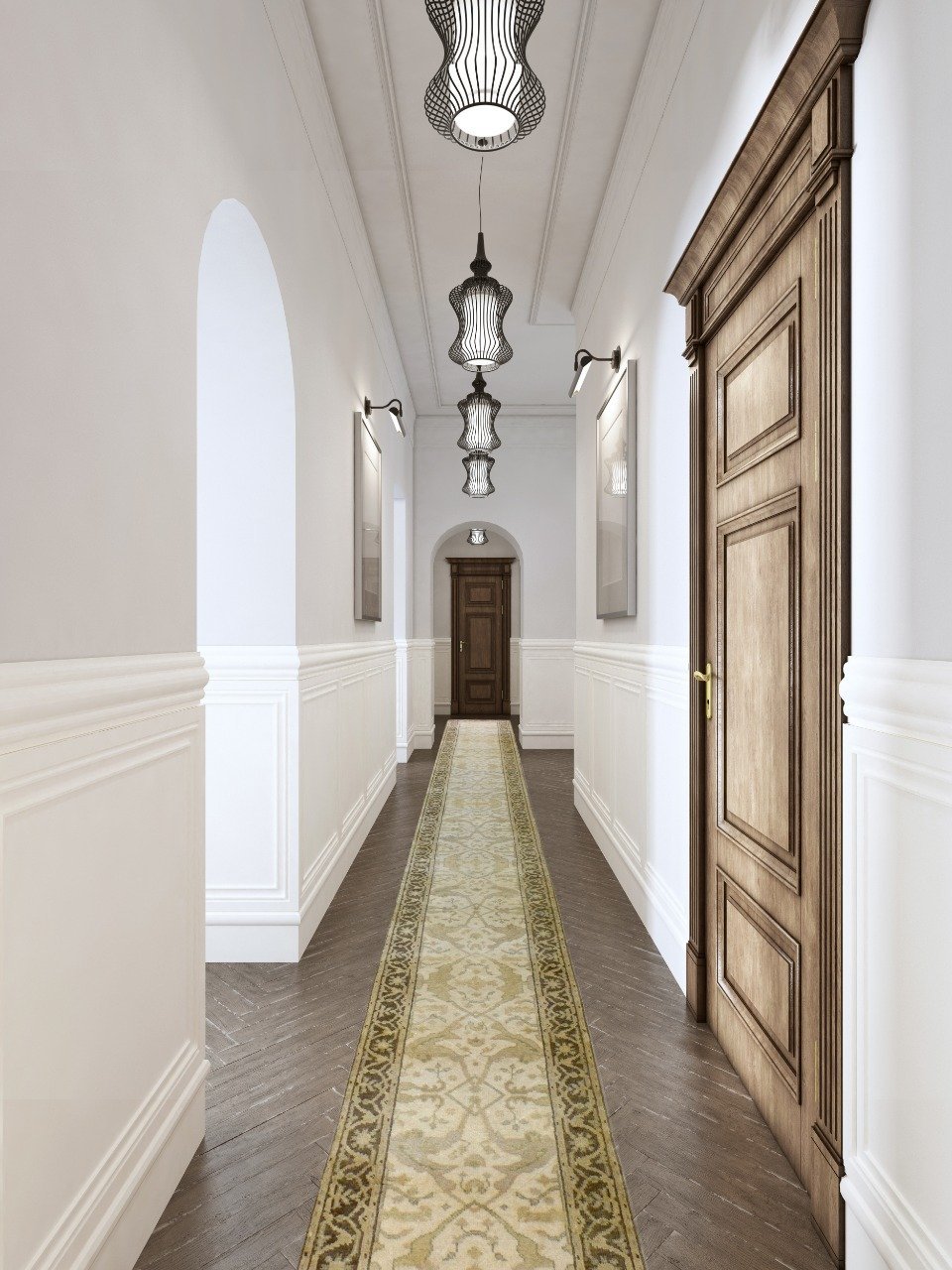 The design options are abundant, including solid colors, intricate patterns, or geometric motifs, adding visual interest to your hallway. Placement options for long hallway runner rugs are versatile—they can be positioned in the center of the hallway, along one side, or even layered with other rugs for a creative look. Long hallway runner rugs provide an attractive focal point, enhance the visual flow, and protect your floors from wear and tear.
6.More space and dimension with a wide hallway runner rug
If you have a wide hallway, a wide runner rug is the perfect choice. These rugs cover more surface area, ensuring that your hallway feels balanced and proportionate. A wide hallway runner rug adds a sense of spaciousness and can accommodate larger furniture pieces or provide ample walking space.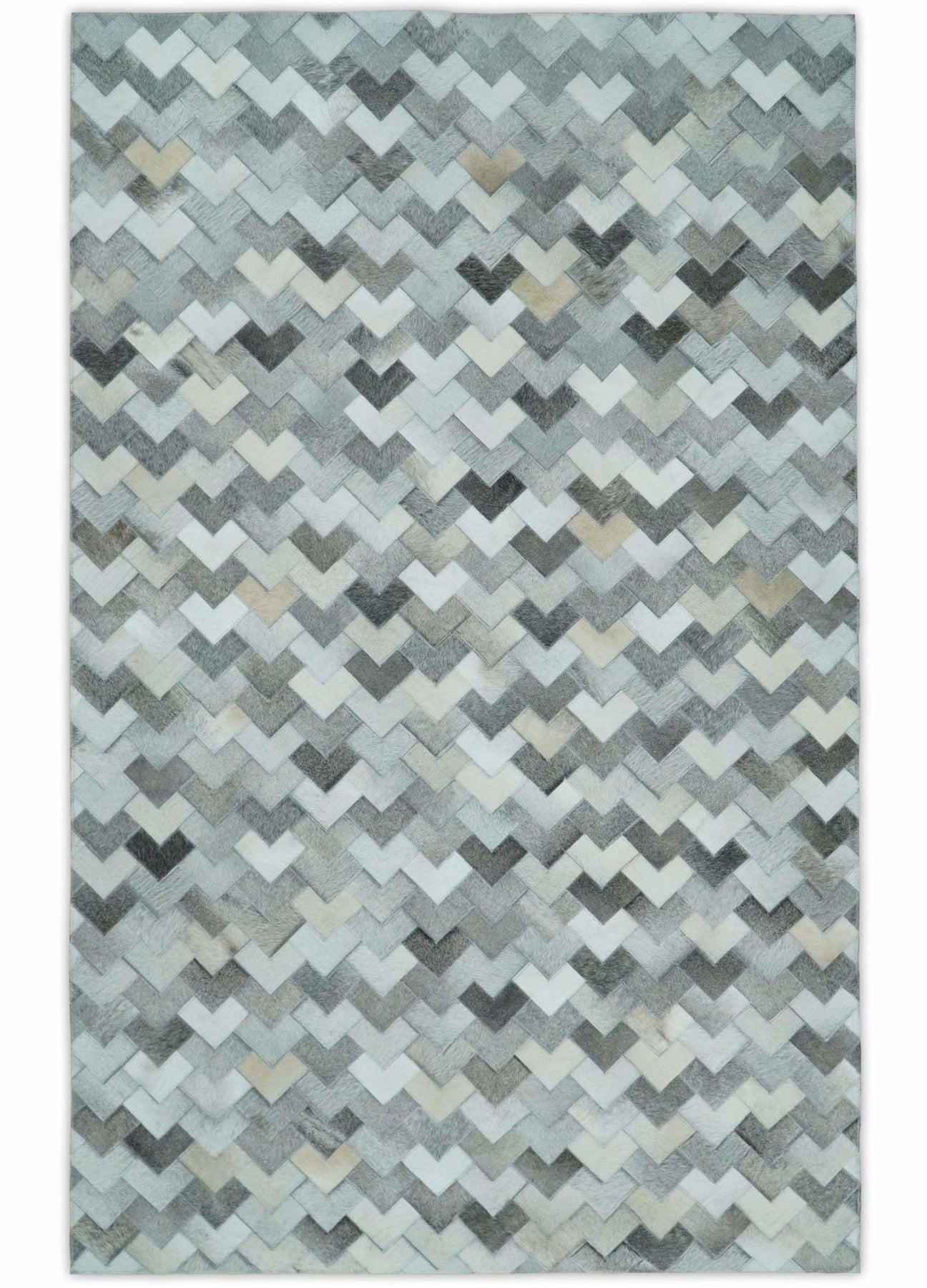 These rugs are typically crafted from durable materials such as wool, synthetic blends, or natural fibers like jute or sisal, ensuring both longevity and comfort. Wide hallway runner rugs often feature intricate patterns or bold geometric designs, adding visual interest to your space. 
Placement options for wide hallway runner rugs include centering them in the hallway to create a focal point or positioning them along one side to define the walking path. They provide an inviting atmosphere, protect your floors, and add a touch of sophistication to your wide hallway.
7.Red Runner Rugs for Hallway adds richness and boldness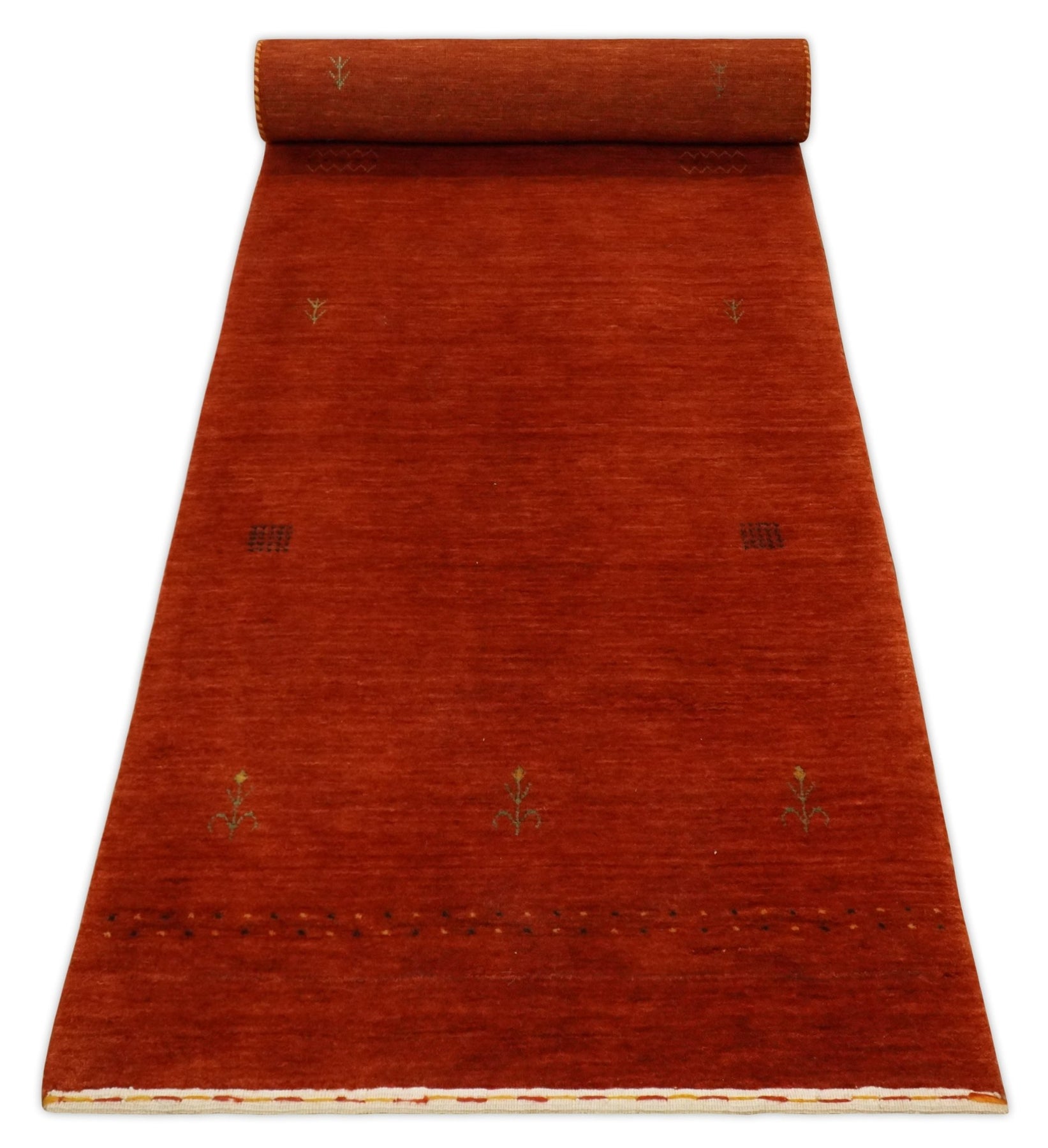 Infuse energy and warmth into your hallway with red runner rugs. The vibrant and passionate color creates a bold focal point, instantly capturing attention and adding a touch of drama to your space. Red runner rugs for hallway bring a sense of vitality and can be paired with neutral or complementary tones for a striking visual contrast.
8.10 feet functional runner rug for the hallways
Find the perfect fit for your hallway with a 10 feet runner rug. This length is suitable for medium-sized hallways, providing ample coverage while leaving enough space on either end for a balanced look. A 10 feet hallway runner rug adds style and functionality, transforming your hallway into a well-designed pathway.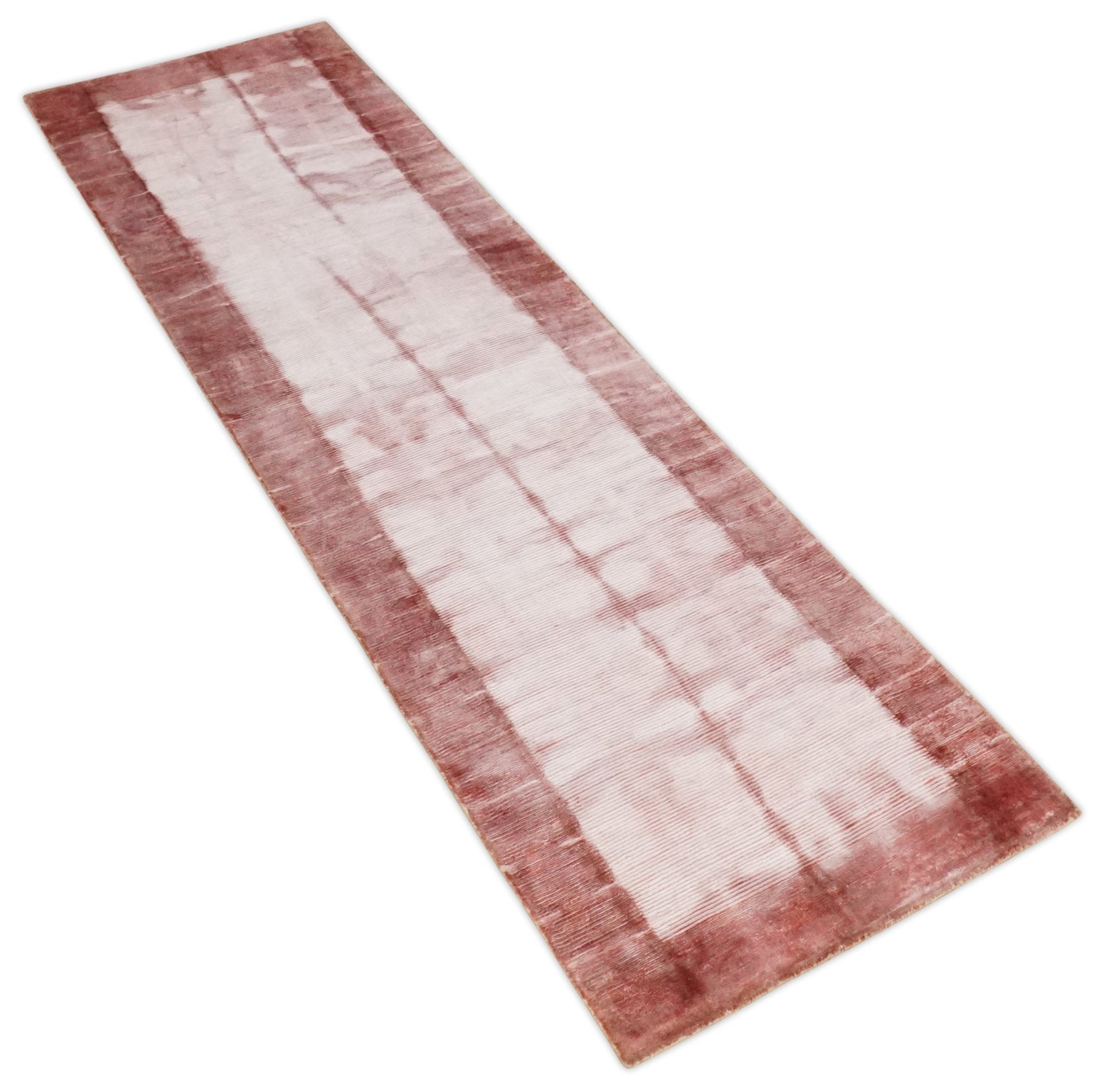 A 10 feet hallway runner rug offers a versatile and functional solution for longer hallways. Style-wise, you have a wide range of options, from traditional to contemporary, allowing you to find a rug that matches your decor.
On the other hand, placement options for a 10 feet hallway runner rug include centering it in the hallway to create a focal point, or aligning it along one side to define the walking path. This size of rug adds warmth, reduces noise, and protects your floors while elevating the visual appeal of your hallway.
9. Cohesiveness and balance with a 12 Foot Hallway Runner Rug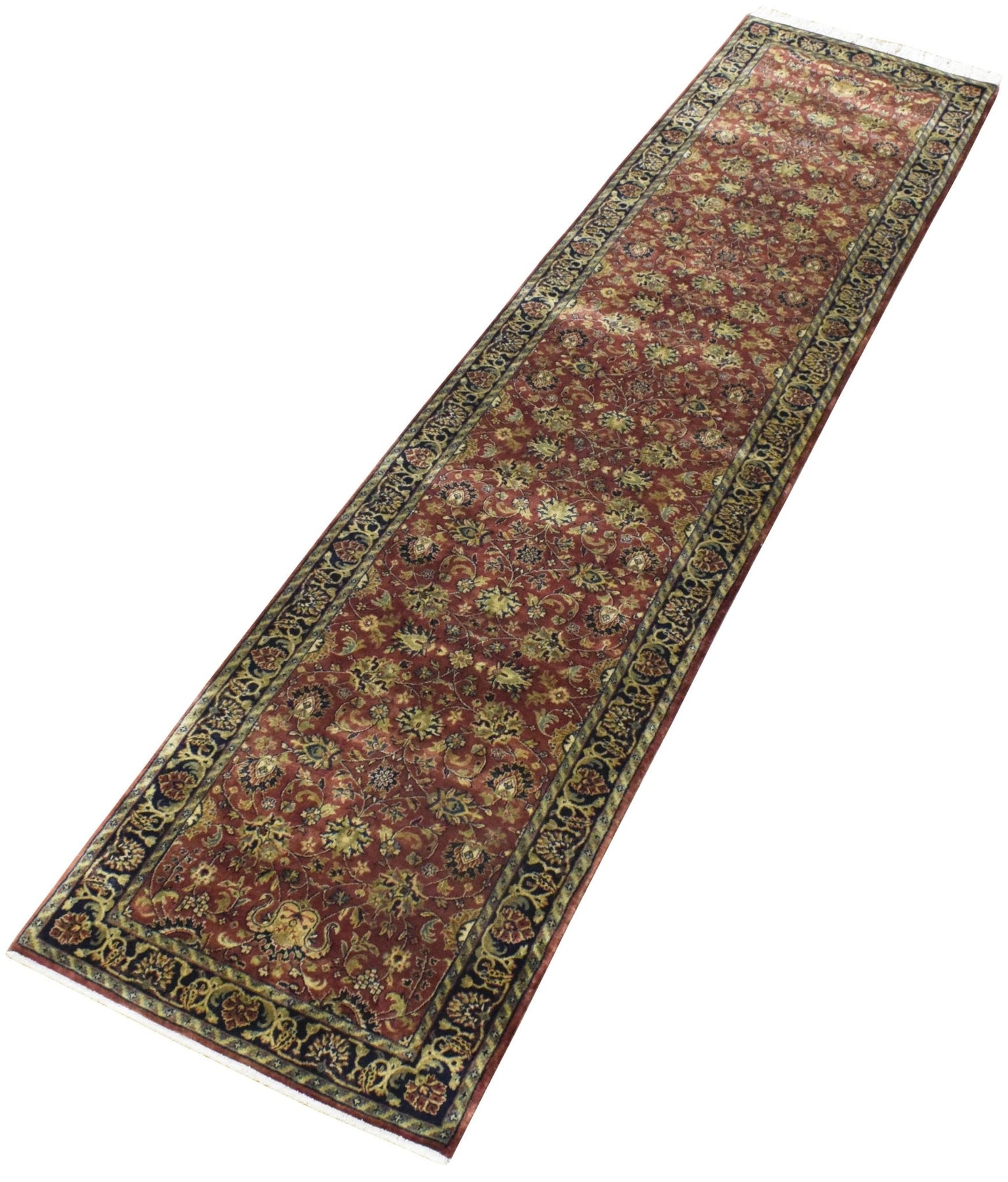 For longer hallways, a 12-foot runner rug is an excellent choice. This size ensures that your rug extends the entire length of the hallway, creating a cohesive and inviting space. A 12 foot hallway runner rug is versatile and allows you to showcase intricate patterns or designs, making a lasting impression as you enter your home.
FAQs
What kind of rug do you use for a hallway?
When choosing a rug for a hallway, it's best to opt for a durable and low-pile rug. Flatweave rugs or runners made of materials like wool, cotton, or synthetic fibers are popular choices. These rugs are easy to clean and maintain, and their slim profile fits well in narrow spaces.
How big should a rug be in a hallway?
The size of the rug for a hallway depends on the dimensions of the space. Ideally, the rug should be long enough to cover a significant portion of the hallway without overwhelming it.
It's recommended to leave a few inches of space on either side of the rug to create a balanced look. Typically, hallway runners come in various lengths, ranging from 6 to 14 feet, allowing you to choose the most appropriate size for your hallway.
---
---
Recommended Blog Post