Select the perfect rug in office with the right tips and ideas
Introduction
Selecting the right type of office décor is a time-taking process, but choosing the smaller elements can be easier if you start with the right ideas. There is no dilemma about the fact that even the smallest of elements you choose to incorporate in your workspace can create a major impact on the overall productivity and the ambiance. Out of these elements, one of the most important ones is your choice for the rug in office.
The perfect rug plays a significant part when you are planning to transform your workspace for the better. When you make the right choice, your workspace becomes more vibrant and welcoming, and with the perfect rug you can also give your home a cozy relaxation corner and also the right amount of sophistication.
In addition to improving the space's looks, a well-chosen office rug also has functional benefits, such as lowering noise levels, defining space boundaries, and enhancing comfort. However, browsing the wide selection of rug alternatives can be intimidating, so it's important to take a few important considerations into account before choosing.
This blog will explore the art of choosing the perfect area rug in office, providing insightful advice and suggestions to suit your particular workstation needs. We've got you covered, from learning about the different rug materials that are appropriate for high-traffic areas to choosing the proper color palettes to represent your business.
How to pick best home office rug?
The choice of the ideal rug in home office requires a lot of thought. It has an effect on the area's usability and comfort in addition to the overall aesthetics of your workspace. An office rug may create defined areas, offer warmth, and improve the ambiance, which will ultimately affect your creativity and productivity.
We have put up a detailed guide on how to choose the best area rug in office to guarantee you make the best decision possible. The main considerations to take into account when selecting an area rug for your workplace and how it might improve your home office environment are covered in this section.
Assess your office needs
Start by evaluating your workplace needs before exploring the plethora of office rugs that are available. Think about the area's dimensions, design, and foot traffic. A rug may be required to cover the entire office space or to demarcate particular regions, such as the reception or seating areas. By determining the rug's role, you may reduce your options and make sure it will enhance the functionality of your office.
Choose the right material
Regarding your rug in office, material selection is crucial. Choose tough materials that can survive frequent usage for high-traffic areas like bustling hallways or workstations. The resilience of synthetic fibers like nylon and polyester is outstanding, and they are also simple to clean. Natural fibers like wool or silk, however, can offer a more opulent touch in less crowded places and create a sophisticated and attractive appeal.
Consider the color scheme
Your rug's color palette should complement the decor of your workspace as a whole. A cohesive color scheme can foster positive energy and encourage a relaxing work environment. Neutral colors like beige, gray, or blue seem professional and ageless.
Consider adding pops of bold colors that are consistent with your brand's identity if you want to bring energy and inventiveness. Remember that lighter hues can elongate a room, while darker shades can produce a warm, intimate atmosphere.
Focus on size and shape
A balanced and visually appealing office arrangement depends on selecting the proper size and type of area rug in office. Make sure the rug is the right size by measuring your workplace space. A sizable area rug that extends beneath the main pieces of furniture, such as desks and chairs, can anchor the room and give it a cohesive appearance. As an alternative, you might designate various regions of the office with different rugs. A smaller rug placed behind a coffee table, for example, can indicate a lounge area.
Explore patterns and textures
Your office rug's pattern and texture choices can give the room character and depth too. A rug with elaborate designs can be an intriguing focus point in an office with minimalistic decor. On the other hand, if your office is already covered in strong designs, think about choosing a subtler, more textured rug to balance the visual aspects. Just make sure the patterns and textures don't compete with the space's other furnishings.
Mind your budget
There are several different price points for office rugs. To prevent overspending, it's imperative to establish a budget before beginning your search. Although purchasing high-quality carpets may require a larger initial outlay, they are frequently more resilient and can endure the test of time. In order to get a fantastic deal on the rug you want, keep an eye out for sales, discounts, or clearance occasions.
Prioritize comfort and safety
In every workspace, convenience and security are top priorities. Make sure the rug you select provides a cozy area to stand and stroll on. Consider adding rug pads as well to add more cushioning and prevent slippage. Always put safety first, especially in regions with high foot traffic.
Choose versatility
Select a rug in office that offers versatility and can adapt to potential changes in your office layout or decor. A rug with a timeless design and neutral color can seamlessly transition into various office styles and themes over time, allowing for easy updates without needing to replace the entire rug.
Size, material, color, and texture are just a few of the important considerations when choosing the ideal rug for your office. You may choose an area rug that not only matches your office design but also improves the atmosphere and functionality of your workspace by considering your office demands, remaining within your budget, and looking for comfort and safety.
Rugs are essential for delineating workspaces, boosting efficiency, and fostering a friendly atmosphere for both staff and customers. So, take your time, research your alternatives, and spend money on a rug that perfectly complements the design and needs of your office, taking your home office or workspace to new levels of luxury and comfort.
List of rugs for office to check out
The choices can be confusing when you are trying to choose the ideal rug in office. Finding the appropriate rug that matches your workplace decor and fulfills your workspace needs involves careful consideration of everything from sturdy materials to appealing designs as mentioned in the previous section.
We have put together a list of the top rug options that can offer the ideal balance between aesthetic and practicality to help you in your search for the best rug for office settings. These carpets will not only improve the appearance of your office but also create a cozier and effective environment. They are appropriate for both home offices and professional workspaces.
1. Area rug with geometric patterns
Any office space benefits from the ageless appeal of geometric designs, which give it an air of professionalism. A rug with clearly defined geometric patterns, such triangles, blocks, diamonds, or hexagons, can make your workspace's center point aesthetically striking.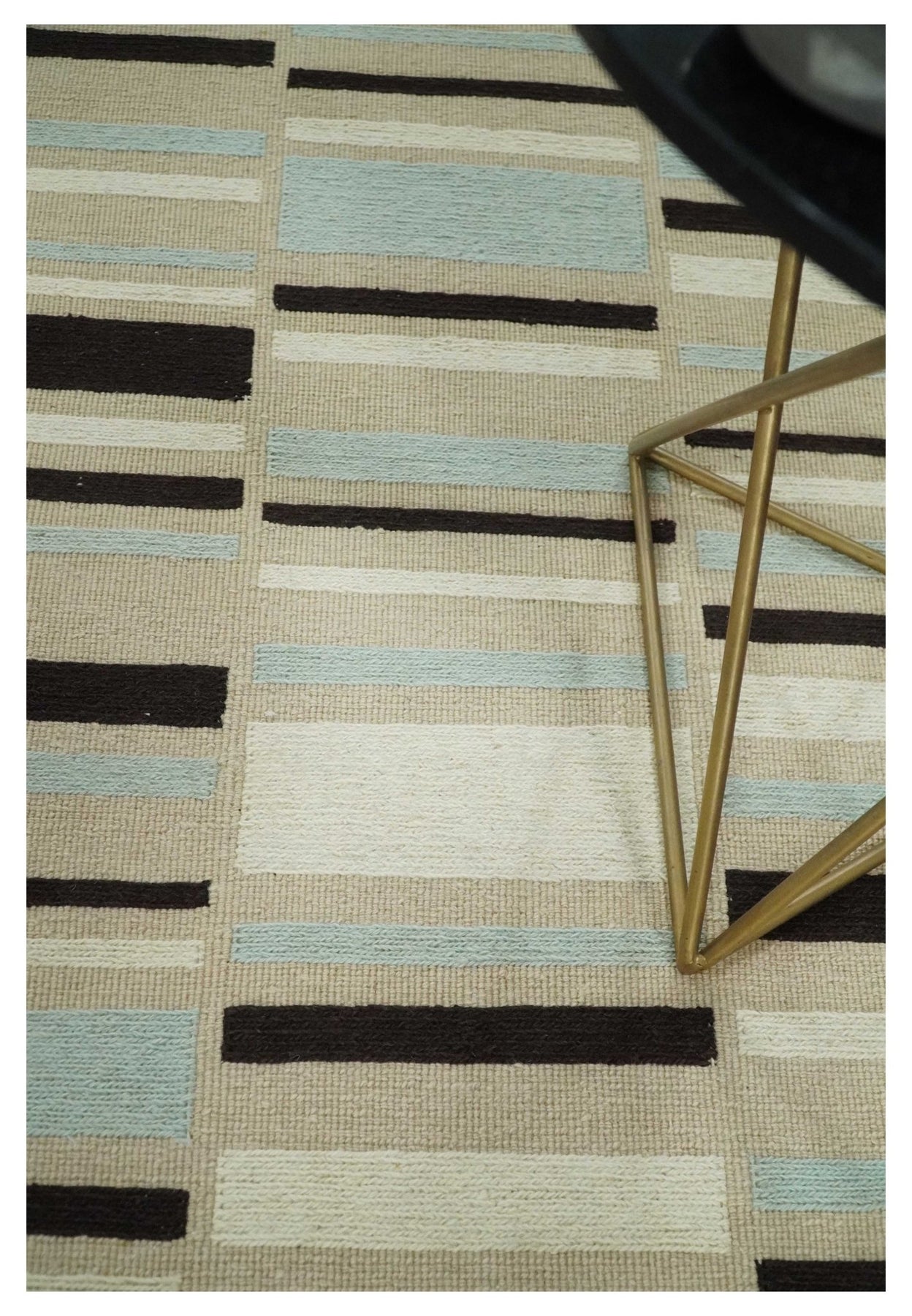 Buy Now - Black and Silver Hand Woven Soumak Rug
The sleek and contemporary workplace decor can be complemented by the straight lines and symmetrical designs, instantly enhancing the atmosphere. To create a stylish and well-organized aesthetic, use this kind of rug with simple furnishings and monochrome color choices.
2. Bold colored natural fiber rug
Consider a natural fiber rug in a bold hue or combination such as blue and silver if you're looking for a timeless and adaptable solution that works with different workplace design styles.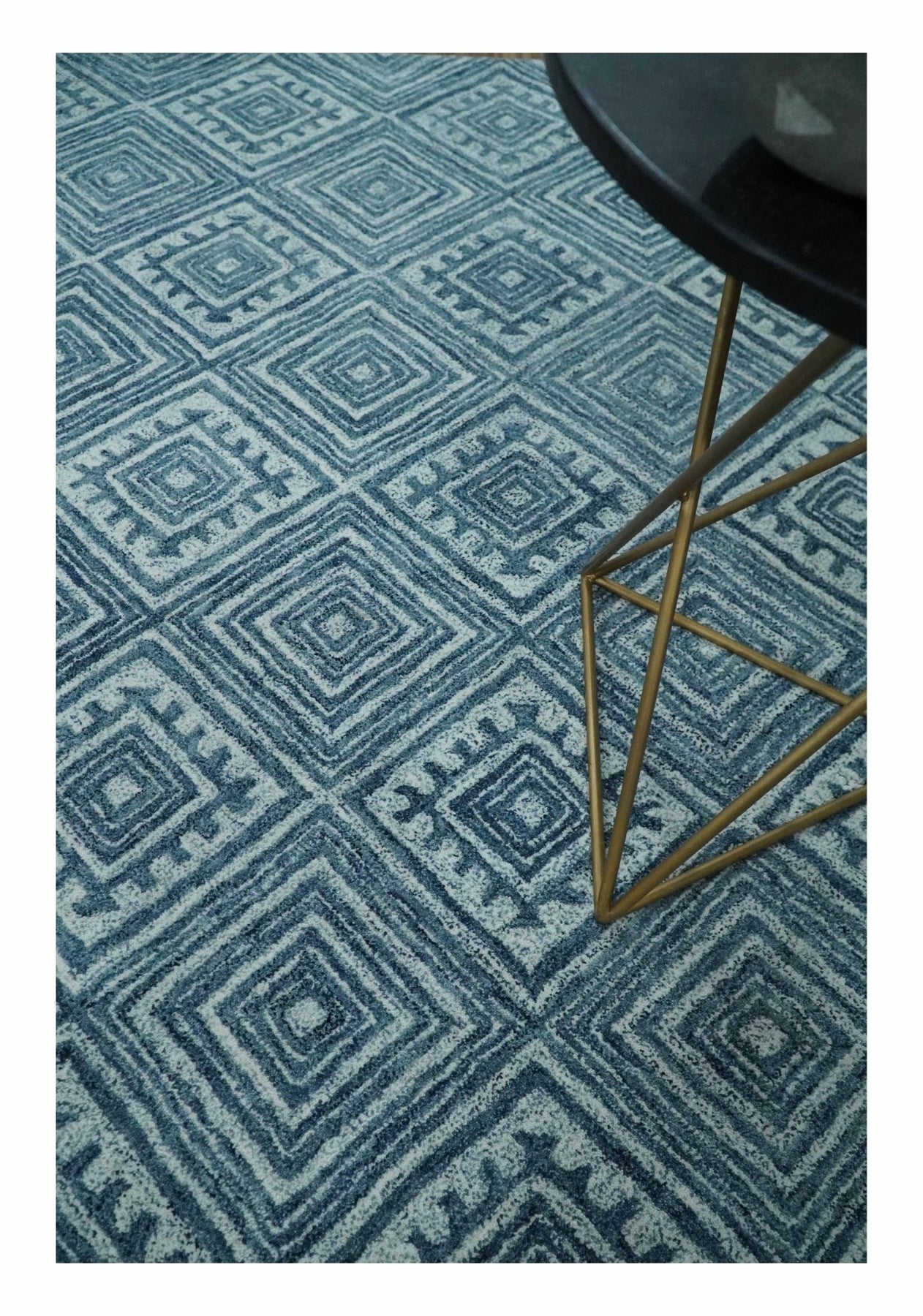 Shop Now - Blue and Silver Geometrical Pattern Wool Area Rug 
Jute or sisal are examples of natural fibers that not only provide durability but also give the office a charmingly rustic feel. These rugs can endure the demands of a busy office setting and are a great option for high-traffic areas.
3. Contemporary abstract rug
Consider a modernized abstract rug if you want to make a big impression in your office. Abstract rugs include unique and artistic patterns that give the room a creative touch.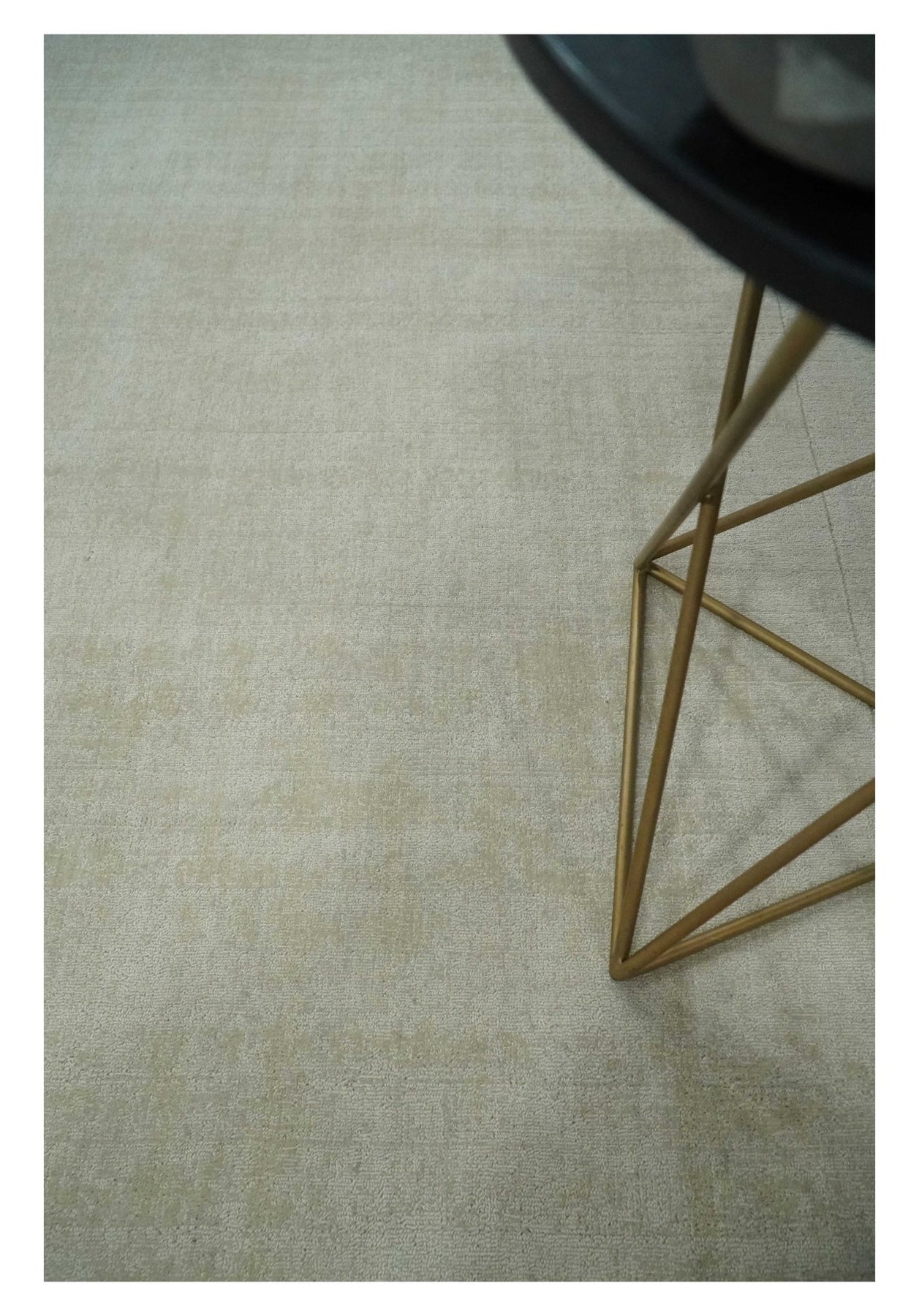 Buy Now - Modern Abstract Handloom Rug 
These wool carpets are ideal for workplaces with contemporary decor since they can enhance and compliment the feel of the space. To bring the room together harmoniously, pick a rug with tones that complement the accent colors in your office.
Product 4: Create a monochrome
There is nothing more satisfying than being able to create a monochrome look for your office. For example, when you choose a couch or furniture for the space, go for muted shades like white, black, gray, and more.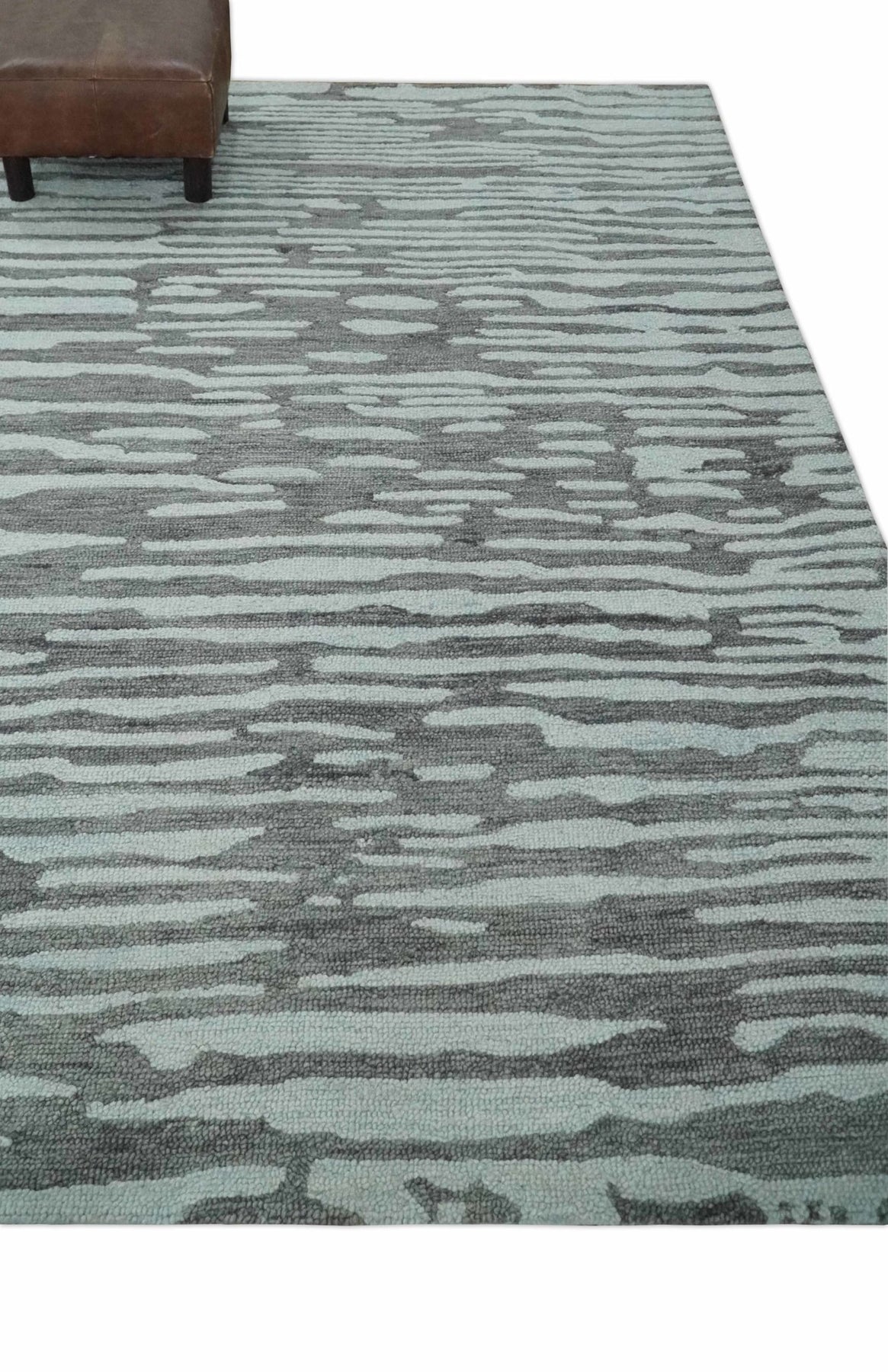 Shop Now - Modern Abstract Handloom Wool Area Rug 
Now, if you are going for a black chair or table, choose a rug in a combination of silver and charcoal for a monochromatic yet unique appeal.
Style, use, and personal tastes must all be carefully taken into account when choosing the ideal carpeting for your office. The broad selection of carpets available on the market meets the needs and aesthetic preferences of various office settings with its geometric patterns, natural fabrics, and personalized logo options.
Pick a rug in office that goes well with the design of the space, represents your work, and offers comfort and durability. You can make your workspace more pleasant so that it encourages you to achieve success, productivity, and creativity.
FAQs
Should you put a rug in your office?
Yes, incorporating a rug in your office is a great idea. A well-chosen rug can define spaces, add warmth, reduce noise, and enhance the overall aesthetics of your workspace, creating a more comfortable and inviting environment for employees and clients.
How should a rug be placed in office?
When placing a rug in your office, consider the layout and the purpose of the rug. For larger spaces, center the rug under the main furniture pieces like desks and chairs to anchor the room. In smaller areas, use a smaller rug to define specific zones, such as a seating or reading area.
What kind of rug for an office?
The best rug for an office depends on factors like the level of foot traffic, office decor, and budget. Durable materials like nylon or wool are ideal for high-traffic areas, while natural fibers like jute or sisal add a rustic charm. Choose colors, patterns, and textures that complement your office's style and meet your functional needs.
Do I need a rug under my office chair?
Having a rug under your office chair is beneficial, especially if you have hard flooring like hardwood or tile. A rug with a low pile or smooth surface allows your office chair to glide smoothly, reducing wear and tear on both the chair's wheels and the floor. Additionally, a rug adds comfort underfoot and can define your workspace, making it a practical and stylish addition to your office setup.
---
---
Recommended Blog Post