Rugs for brown couches: Choose the perfect one for your home
Introduction
Are you planning to transform your living room with brown couches into a more appealing and cozy space? You are at the right place because by the end of this blog you will get all the answers you are looking for. Firstly, brown couches are classic pieces of furniture that offer elegance and warmth to any space. That's why they are one of the most common choices that homeowners make. Now the best option here for an aesthetic elevation is to find rugs for brown couches that can offer a more cohesive and stylish look
In this blog, we will discuss about some of the best idea for living room rugs for brown couch. As a result, you can refer to the list while shopping for your home. In the second half of this post, you will also find the right rug options to match your ideas, so that you can grab them without further ado. We understand that interior design is an art form, and every element plays a crucial role in shaping the character of your living room. Moreover, the perfect area rug for brown couch not only adds style and texture but also ties together all the elements of your decor.
Color pairing options for brown couches
When it comes to choosing the right rugs for brown couches, the color and patterns you select can impact the overall look and feel of the room. You can either go for a rug for dark brown couch that will complement the warm tones of the furniture or serve as a contrast element for visual interest. In this section, let's explore various color pairing options for brown couches to help you find the perfect rug that suits your style and home decor.
Earthy neutrals
Rugs in beige, cream, or taupe colors are classic choices that effortlessly blend with brown couches. These earthy neutral colors exude soothing and calming energies, making your living room a cozy and peaceful space. Therefore, you must select subtle patterns or textures to add depth and interest without overpowering the space while choosing living room rugs for brown couch. Consider a jute or sisal rug in a natural hue for a touch of organic elegance and durability.
Warm reds and oranges
To add a touch of vibrancy, opulence, and energy to your living space, consider rugs in warm red or orange shades. These colors complement the monochrome of the brown couch while infusing the room with warmth and personality. Therefore, you can consider rugs with intricate patterns or abstract designs to create a captivating focal point in the room. A Persian or Moroccan-style rug in red or terracotta can add an exotic and luxurious touch to your living room.
Natural and elegant greens
Green rugs in various shades, such as olive, sage, mint, or forest green, can create a serene and sophisticated look. A green area rug for brown couch will bring a sense of freshness to the room instantly, and attract the attention of guests. Consider rugs with leafy or floral patterns to enhance the nature-inspired theme in your living space. You can also choose green rugs with gold or other traditional detailing for that extra pinch of opulence and therefore elevate the overall elegance of the room.
Calming and strong blues
Blue rugs in soft and muted tones, such as teal, navy, or denim blue, can create a calming and tranquil atmosphere. Moreover, the combination of blue and brown will surely exude a sense of comfort and coziness in your living room. You can choose rugs with geometric patterns or subtle stripes to add a contemporary touch to the space as well. A blue rug with silver or gray accents can add a touch of sophistication and modernity to your decor.
Neutral grays
Gray rugs are versatile options that can complement any brown couch, regardless of its shade. Note that light gray rugs can create an airy and spacious feel, while dark gray rugs will add depth and richness to the room. Consider rugs with geometric or abstract patterns in different shades of gray for a modern and stylish look. A gray rug with hints of metallic designs and detailing can add a touch of glamour and elegance to your existing living space.
Bold patterns and contrasting colors
For those who love to make a bold statement, rugs with contrasting colors and eye-catching patterns are excellent choices. Consider a rug with a mix of bold colors like red, blue, or green to create a striking contrast with the brown couch. Moreover, geometric patterns, stripes, or chevron designs can add a contemporary and dynamic element to the room. Make sure to balance the boldness of the rug with neutral or minimalistic decor accessories.
Monochromatic hues
Monochromatic rugs in different shades of brown can create a sophisticated and cohesive look. This option allows you to play with texture and materials to add visual interest to your living space. Consider a mix of different materials like wool, leather, or jute to create a layered and textured effect. Besides, monochromatic rugs work well with various decor styles, from rustic to modern.
Vibrant colors that pop
If you prefer a more eclectic and vibrant look, consider rugs with pops of vibrant colors like pink, purple, or yellow. These bright colors can add energy and playfulness to your living room, balancing the warmth of the brown couch. Look for rugs with artistic designs or abstract patterns for an artistic and contemporary vibe. Ensure that the colors of the rug complement other decor elements in the room for a cohesive look.
Colors of earthy elements
Embrace the beauty of nature by opting for rugs in natural earth tones like terracotta, rust, or clay. These earthy hues harmonize perfectly with the brown couch, creating a grounded and rustic ambiance. Consider rugs with tribal or bohemian patterns to enhance the natural and ethnic feel of the room. Moreover, natural fiber rugs like jute or sisal can also add texture and warmth to the space.
Classic black and white
A classic black and white rug can add a touch of sophistication and elegance to your living room. The contrast between black and white creates a bold and contemporary look, while still complementing the brown couch. You can check out rugs with classic patterns like herringbone, damask, or quatrefoil for a timeless appeal. This color pairing also allows you to experiment with colorful decor accents and accessories.
Choosing the perfect rug for your brown couch involves considering various color pairing options that complement or contrast with the warm tones of the couch. Earthy neutrals, warm reds, calming blues, elegant greens, neutral grays, and bold patterns are just some of the choices available to create a cohesive and inviting living space. Whether you prefer a classic and serene ambiance or a vibrant and eclectic look, the right rug can transform your home decor and elevate the style of your living room.
Remember to check the size of the rug, the material, and the overall decor theme to ensure a harmonious and balanced space. By exploring different color pairing options, you can find the perfect rug that brings out the best in your brown couch and adds a touch of personality and charm to your home. Happy decorating!
List of rugs for brown couches
Your brown couch is the heart of your living room, providing a warm and inviting space for relaxation and conversation. To enhance its beauty and create a harmonious ambiance, selecting the right rug is crucial. A well-chosen rug can tie together your decor, adding depth, texture, and color to your space. If you're on the hunt for the ideal rug to complement your brown couch, we've curated a list of rugs that will undoubtedly elevate your living space.
Tribal look rug
Embrace the timeless charm of tribal aesthetics with a hand-tufted wool rug. The camel and charcoal stripe pattern effortlessly complements the rich tones of your brown couch.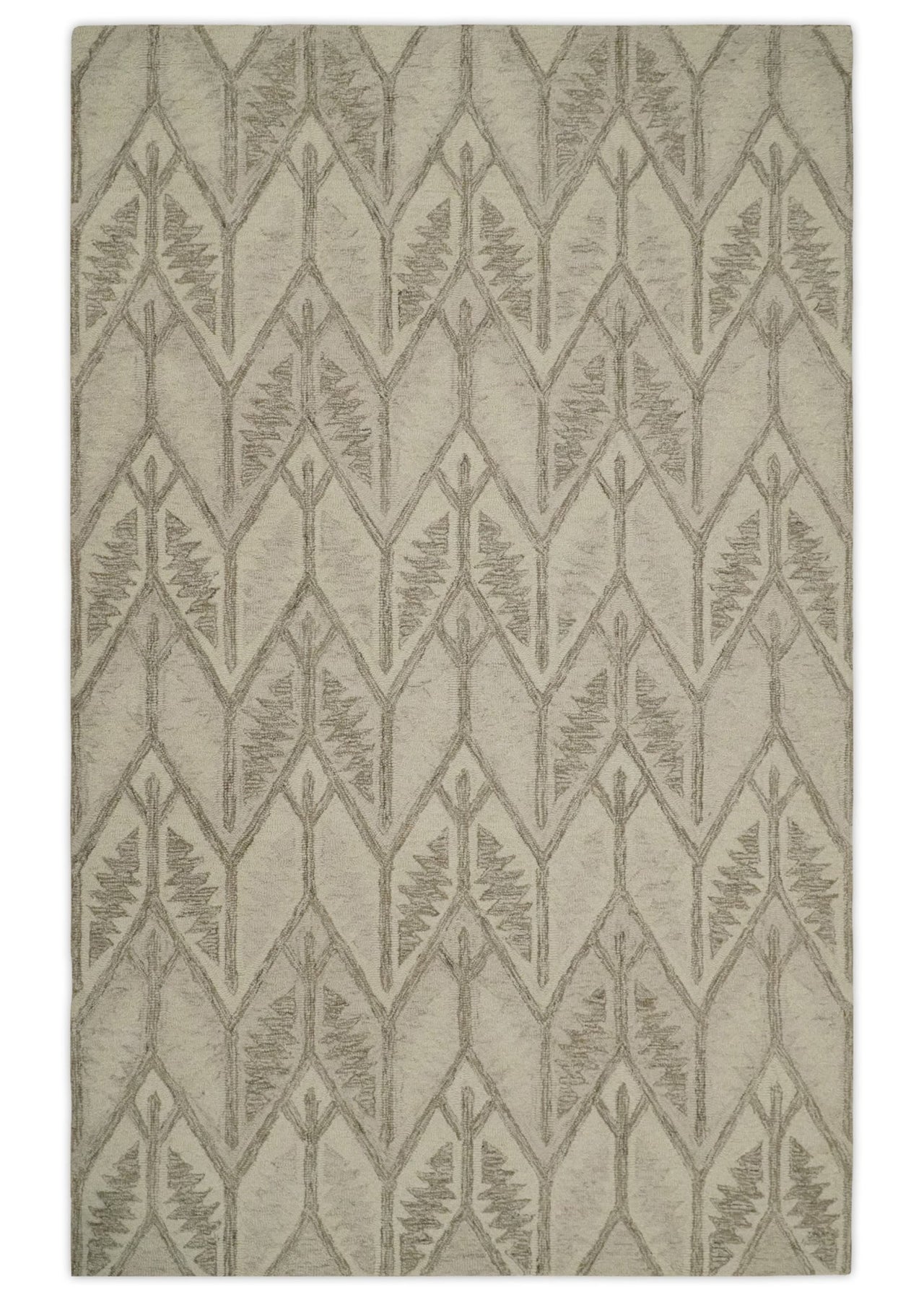 The geometric motifs add an element of sophistication, while the wool material provides a cozy texture underfoot. This rug not only harmonizes with the earthy tones of your living room but also adds a touch of contemporary elegance.
Traditional and oriental style
Elevate your living space with the intricate artistry of a hand-knotted Oriental rug. The rust and beige color palette brings warmth and vibrancy to your room while echoing the cozy tones of your brown couch.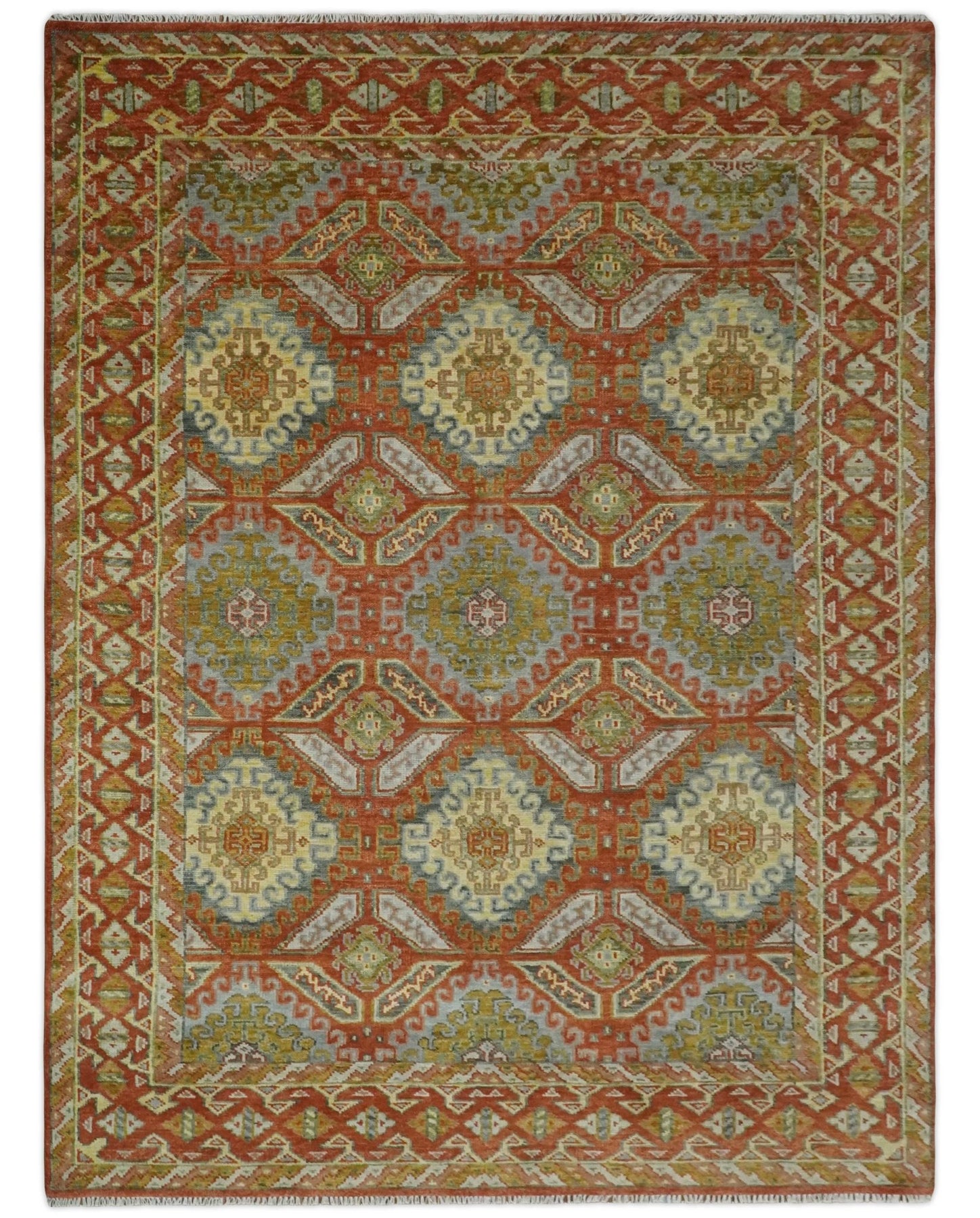 Shop Now - Hand Knotted Rust and Beige Wool Area Rug 
The traditional design elements pay homage to timeless craftsmanship, creating a sense of history and cultural richness. Available in multiple sizes, this rug allows you to tailor your choice to the dimensions of your living area.
Green and ivory for a statement
Infuse a breath of fresh air into your living room with an ivory and green striped hand-tufted wool rug. The soft and soothing colors create a gentle contrast with your brown couch, bringing an element of lightness to the space.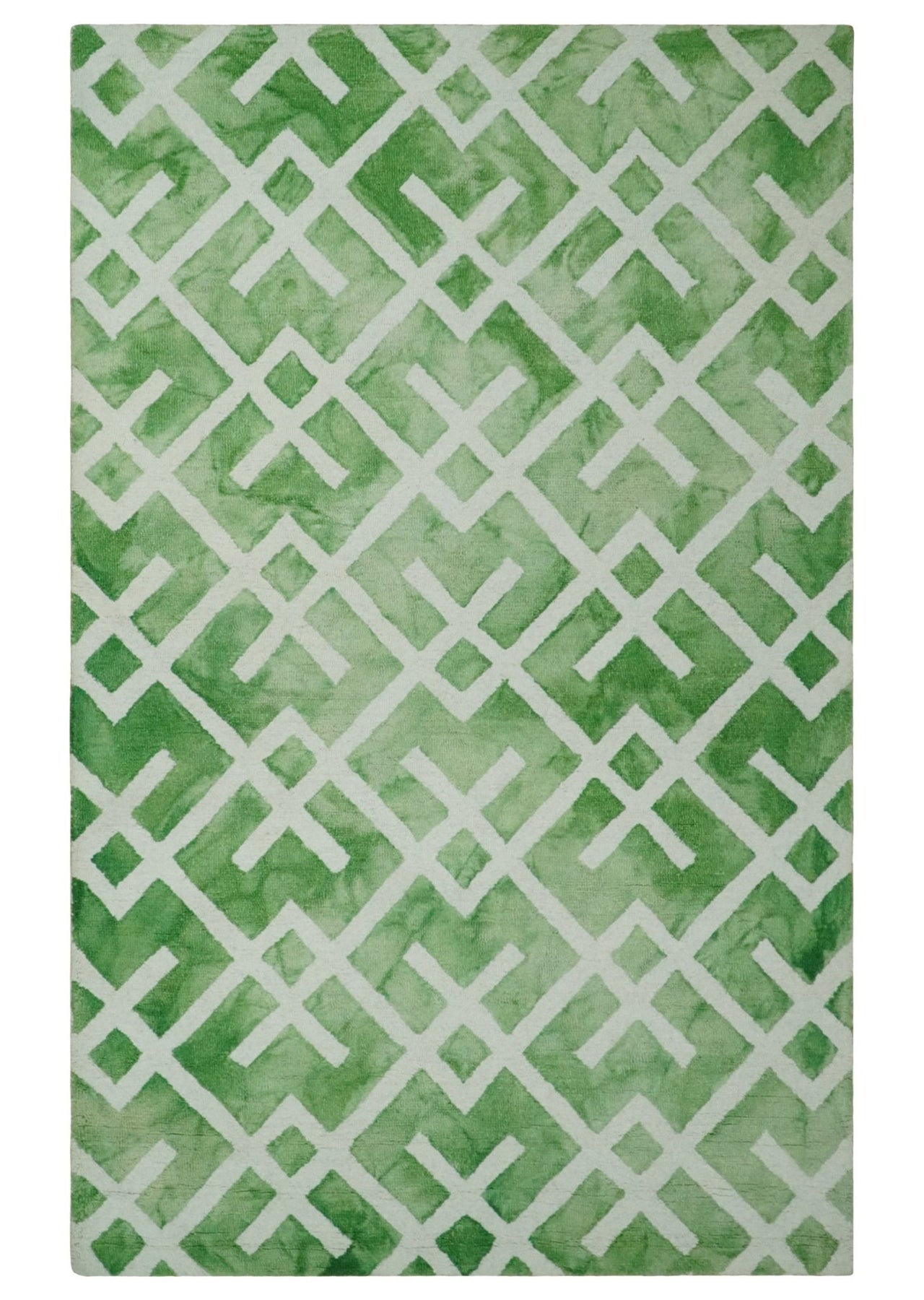 Shop Now - Ivory and Green Stripes Pattern Wool Rug 
The striped pattern adds a contemporary touch, making this rug a perfect choice for those seeking a modern yet cozy atmosphere.
Product 4: Beautiful floral pattern rug
For those with an affinity for classic beauty, this custom-made hand-knotted Oushak rug is a masterpiece.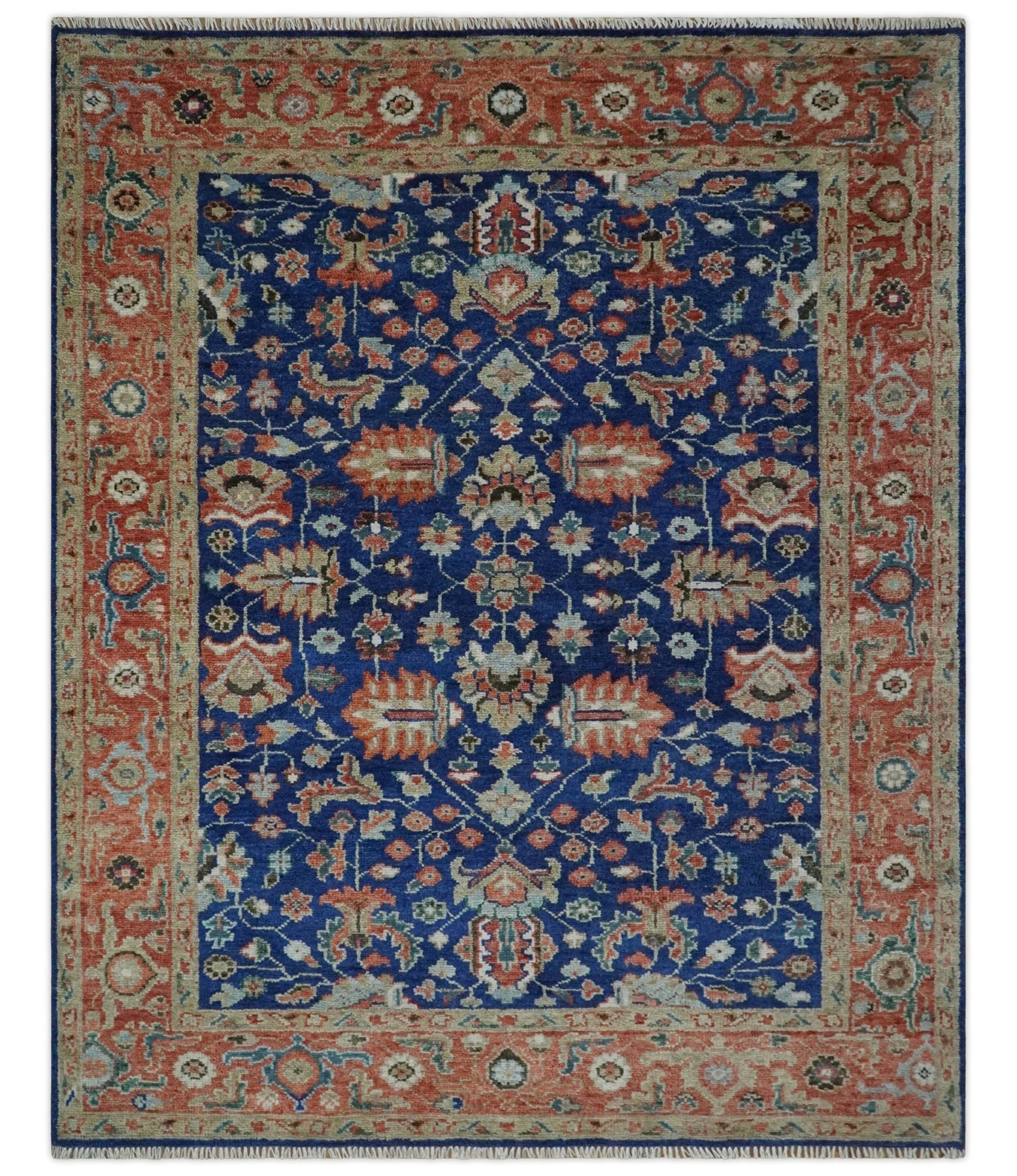 Buy Now - Blue and Rust Traditional Serapi Wool Area Rug 
The blue and rust floral design exudes elegance and grace, echoing the refined nature of your brown couch. The intricate details of the floral motifs add a touch of opulence to your living room, creating a space that is both inviting and luxurious.
Contemporary style with wool blend rug
If you're drawn to a contemporary aesthetic, a handmade black and white wool blend rug is a perfect match.
             Buy Now Modern black and white geometric area rug 
The monochromatic palette creates a striking contrast with your brown couch, infusing your living room with a sense of boldness and style. The modern geometric design adds visual interest to your space, making a strong statement while maintaining a cozy atmosphere.
Choosing the right rug for your brown couch is an exciting opportunity to enhance the beauty and comfort of your living room. The rugs on this list have been thoughtfully selected to cater to a variety of styles, from traditional to modern, ensuring that you find the perfect rug that resonates with your taste and complements your brown couch. Whether you're drawn to the timeless charm of Oriental patterns or the contemporary allure of stripes and geometric shapes, these rugs are sure to transform your living space into a haven of style and comfort.
Before making your final decision, consider the dimensions of your room, the existing decor, and the atmosphere you wish to create. A well-chosen rug can be a transformative element, adding character and personality to your living space while harmonizing with the inviting tones of your brown couch. With the right rug in place, your living room will become a reflection of your style and a place where cherished memories are made.
FAQs
What color rug goes with a brown couch?
Earthy neutrals like beige or cream, warm reds, elegant greens, calming blues, and neutral grays all complement brown couches beautifully.
What texture and material are suitable for brown couches?
Soft and luxurious materials like wool or shag rugs add comfort, while natural fibers like jute or sisal bring a touch of organic elegance.
---
---
Recommended Blog Post